Polio, Pitchforks and Perseverance
How a North Carolina County Named Catawba Built a 'Miracle'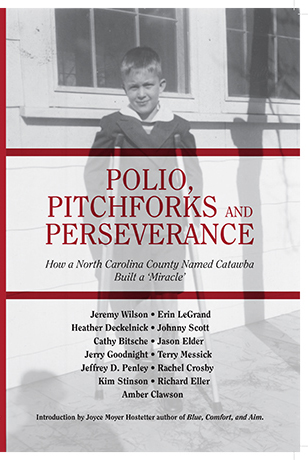 Polio, Pitchforks and Perseverance is a study of a 'miracle,' a look into a battle fought immediately post World War ii where a small community gathered together to fight an insidious nemesis similar those in the European and Pacific theaters...
Fourteen essays from a variety of disciplines cover the 1944 battle including essays on the time period, the disease poliomyelitis, the legal ramifications, personal interviews with survivors of the battle and a history and the creation of the Polio emergency hospital—the Miracle—in hickory by the residents of Catawba County.
Essays by Jeremy Wilson, Erin LeGrand, Heather Deckelnick, Johnny Scott, Cathy Bitsche and Jason Elder, Jerry Goodnight, Terry Messick, Jeffrey D. Penley, Rachel Crosby, Kim Stinson, Richard Eller, and Amber Clawson; edited by Richard Eller and Robert T Canipe.
Get your copy of Polio, Pitchforks, and Perseverance: How a North Carolina County Named Catawba Built a Miracle at the CVCC Bookstore or as an eBook in Kindle format from Amazon.com.
Book by Richard Eller (Author), Robert T Canipe (Editor), Joyce Moyer Hostetter (Introduction), Jeremy Wilson (Contributor), Erin LeGrand (Contributor), Heather Deckelnick (Contributor), Johnny Scott (Contributor), Cathy Bitsche (Contributor), Jason Elder (Contributor), Jerry Goodnight (Contributor), Terry Messick (Contributor), Jeffrey D. Penley (Contributor), Rachel Crosby (Contributor), Kim Stinson (Contributor), Amber Clawson (Contributor)
Introduction by Joyce Moyer Hostetter author of Blue, Comfort, and Aim.
This is a REDHAWK PUBLICATION published by Catawba Valley Community College as part of an effort to display the artistic output of students, staff, faculty, and community.