New Book Coming Soon!
"We See What We Want To See: The Henry River Mill Village"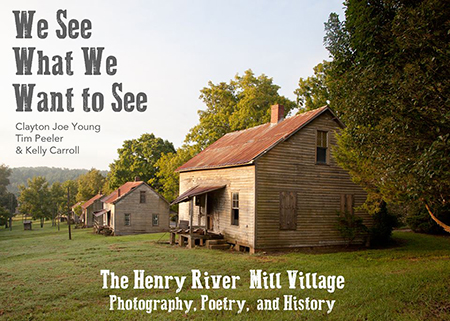 We See What We Want To See: the Henry River Mill Village, Photography, Poetry, and History by Clayton Joe Young, Tim Peeler, and Kelly Carroll is a hybridization of artistry and scholarship.
The book is a project born of fascination with the Henry River Mill Village off Interstate 40, exit 119, just outside Catawba County.
Built in 1904 and incorporated as the Henry River Manufacturing company, the village has approximately 35 houses rented inexpensively to employees of the mill.
To bridge the transition from an agrarian culture to one of industry, each house had enough ground for a garden and to keep a few chickens and other farm animals.
What the owners created is a believable facsimile of the farm house the mill workers grew up in, therefore, giving them comfort in changing times.
Most of the workers knew that farming and country life was hard; what a hailstorm could do to a field of tobacco; what an abundant corn crop did to corn prices. However, the pay envelope from the mill came every week without fail, so the workers owned the best of both worlds, creating their "seeing what they want to see," the title and emphasis of the book.
Please contact Robert Canipe at rcanipe@cvcc.edu to reserve a copy of the limited hardcover run at $29.95.