Our SkillsUSA chapter is recognized as one of the best programs in the country. It is a campus-wide success with our college winning 19 national medals in the past five years.
CVCC SkillsUSA is a partnership of students, teachers and industry working together to ensure America has a skilled workforce. SkillsUSA helps each student excel. SkillsUSA's mission is to empower its members to become world-class workers, leaders and responsible American citizens. Each year CVCC students went to the SkillsUSA National competition and were very excited to bring home gold and silver metals.
SkillsUSA is an opportunity for high-performance students enrolled in career and technical programs to match skills against their peers in leadership, teamwork, citizenship and character development. It builds and reinforces self-confidence, work attitudes and communications skills. SkillsUSA also promotes understanding of the free-enterprise system and involvement in community service.
"SkillsUSA is the perfect match for our students because they get to display their talents in their area of study in a competitive environment. They start at the local level with opportunities to advance to the state and national.
Our students get to experience new things and see a world they might never have seen were it not for SkillsUSA. We are so proud to offer this opportunity to build self-confidence and genuine skills for the workplace.
For more information about CVCC's SkillsUSA team, contact us at (828) 327-7000, ext. 4672 or 4307.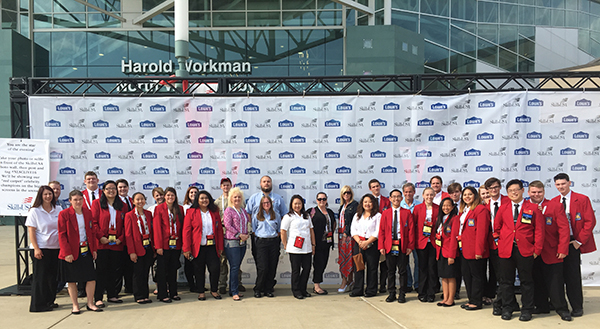 Skills for Skills
Arts & Craft Show
April 29 | 9:00 AM - 3:00 PM | CVCC Tarlton Complex
Admittance: A single snack item or $1 donation for CVCC Hawk's Nest Cupboard
All proceeds go to support CVCC's Skills USA chapter
 
Vendor Spaces Available

Original Handmade Items, Photography, or Artwork Only
No mass produced, direct sale or food items

Booth size: 10 x 10
Vendors must contain their items within their
designated space and will be responsible for the
clean-up of their area when the show ends.

Cost per booth: $50
Cost includes 6' table and 2 chairs, if needed.
Payment is due before April 17 (non-refundable)
Acceptable payment: cash, check or money order.

Set up:
Vendors may set up Friday, April 28 from 5:00 PM – 8:00 PM
or Saturday, April 29 from 7:30 AM – 9:00 AM
Vendors must be ready to show at 9:00 AM
and be present for entire day, no early breakdowns

Application:
» Download Vendor Application
For more information, contact
Becky Rees
(828) 327-7000, ext. 4296
brees@cvcc.edu
To view these (PDF) documents you may need to download Free Adobe reader at www.adobe.com.