What's in it for me?
Improve your reading, math, vocabulary, English skills, and/or complete your high school equivalency or adult high school diploma. You can also learn to help your child with homework, or learn some skills to help you get a better job. Learn at your own pace in a classroom atmosphere in either Alexander or Catawba county.
All College and Career Readiness programs are designed for ADULTS and are FREE!
Let Us Help You Start Your Journey to Success!
Last year our CVCC College and Career Readiness Program served more than 7,500 adults just like you! Each of our eight program areas is designed to meet your unique needs. If you, a friend, an employee, or a relative could benefit from improving basic academic skills or earning a high school equivalency or adult high school diploma, contact us today.
Cassaundra's Journey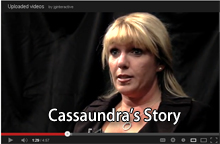 "It Was Success Beyond My Wildest Dreams!"
Meet Cassaundra Hefner, who earned her high school equivalency diploma at CVCC. Hear her life's journey. As a single mother who worked to complete her high school equivalency diploma, she refused to believe those who told her, "No, you can't succeed." Or, "That can't be done." Today, she's a successful advanced practice nurse who has enjoyed career success beyond her wildest dreams. And it all began with the help of CVCC's High School Equivalency program.
Contact Information
College and Career Readiness Office - CVCC East Campus
(828) 327-7000, ext. 4353