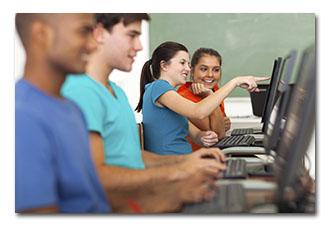 This course was developed to meet training needs of unemployed and underemployed adults. Emphasis will be on the role of technology in the workplace. The content of instructional materials will focus on computer use skills as they relate to improving basic keyboarding abilities, word processing, and Internet skills. Class projects will include creating a resume, cover letter, thank you letter, and completing an online job application. Students learn and demonstrate through a project the presentation skills useful in job interviews and in the workplace. Students practice e-mail capabilities including attaching resumes, develop skills in navigating the Internet, and learn technology based job search strategies to include the use of social media.


Course Learning Outcomes —
By completion of class, at a minimum, students will have:
Learned and practiced basic keyboarding skills
Learned basic computer use skills while developing employability skills
Learned and compiled effective employment related documents (resume, cover letter, thank you letter)
Learned and demonstrated effective job search skills and email capabilities
Learned and demonstrated presentation skills
Developed an understanding of the role of technology and social media in the workplace
NOTE: Monday - Thursday is week one, Monday - Wednesday is week two.
Technology Skills for Job Seekers - CVCC's East Campus

| Date | Day | Time | Location |
| --- | --- | --- | --- |
| 7/31-8/9/17 | M-TH and M-W | 5:30-8:30 PM | East Campus Rm. 946 |
| 9/5-9/14/17 (no class week of 9/4) | M-TH and M-W | 5:30-8:30 PM | East Campus Rm. 946 |
For more information, contact:
(828) 327-7000, ext. 4522