About Health Information Technology
An exciting career in Health Information Technology is suited for individuals who are interested in medicine, business, and the latest in computer technology. CVCC offers an Associate in Applied Science degree in Health Information Technology as well as a Certificate option. CVCC's HIT program is accredited by the Commission on Accreditation for Health Informatics and Information Management Education (CAHIIM)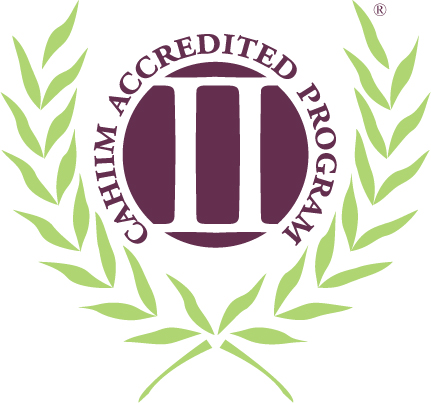 The Health Information Technology program provides the skill set to:
Code clinical data in any healthcare setting;
Collect, process and analyze health information required for reimbursement, facility planning, risk management, utilization management, quality management, and research;
Ensure healthcare information and patient records are managed in compliance with the Health Insurance Portability & Accountability (HIPPA) legislation; and
Provide accessibility of health care data to legitimate users while protecting patient privacy.
 
Why choose the Health Information Technology program?
The US Bureau of Labor Statistics has targeted HIT as one of the top professions for projected growth potential.
The health care field is one of the most secure job markets today;
The ability to work remotely (from home) is attractive to many job seekers; and
CVCC graduates have excellent job placement rates!
Places to Work
One of the biggest advantages of a career in Health Information Technology is its variety of career options. Program graduates may accept positions that range from a technical path (coding and tumor registry) to a people/patient oriented path (supervision and management.)
Many graduates are employed in an office/clinic setting, however, over 80% of HIT professionals may work remotely from home.
HIT graduates are employed by/in hospitals, physicians' offices, skilled nursing facilities, home health agencies, rehabilitation facilities, consulting firms, medical malpractice offices, insurance companies, veterinarian clinics and any other agency where healthcare documentation is maintained.
Degree Completion Time
Students who attend full time should be able to earn the Associate in Applied Science Degree in Health Information Technology in about two years. Graduates will be eligible to take the national examination to become a Registered Health Information Technician. Flexible course scheduling allows students to maintain a part-time job. For students who choose to attend part-time, the program may take longer than two years.
Courses
In addition to the general courses necessary to complete an Associate in Applied Science degree, students will take courses in human anatomy and physiology, principles of supervision, health law and ethics, medical terminology, electronic health records, and disease coding.
Please see the catalog for more information about the degree and certificate options for this curriculum. The catalog also has course descriptions and program sequences.
Clinical Experiences
Students in the HIT program will travel to various locations for a clinical/professional experience during daytime hours. Clinical sites may require a criminal background check and drug screening. Students are required to use CastleBranch, a background screening and compliance management company, for these screenings. There are fees for this service. If any clinical facility refuses to allow a student access to a clinical experience, the student will be unable to complete program requirements. In addition, students will submit a Health Services Student Medical Form.
Students will incur cost other than tuition, fees, books, and supplies
At some point in the duration of the HIT program, students will have additional expenses including, but not limited to, the following:
2 step TB skin test, $50
Hepatitis vaccine (3), $175
MMR (2) & Varicella (2), $390
TDAP, $55
Physical Exam (estimate), $150
Travel expense to clinical sites vary
AHIMA Membership Dues, $45
Registry Exam Fee, $230
Drug Screen (estimate), $50
Criminal Background Check, $55
CVCC Diploma Fee, $25
All above costs are estimated and subject to change.
How to get started?
All persons applying for admission to CVCC must complete the North Carolina Residency Questionnaire, the CVCC Application for Admission and the Free Application for Federal Student Aid found at APPLY NOW.  
Following Application submission, applicants must meet with an Admissions staff member in the Student Services building for a personalized enrollment visit. No appointment is needed. At that time, applicants are provided enrollment and registration information.
Program Outcomes for the 2018 Reporting Year
Graduate surveys indicated that 89% of 2018 graduates acquired a satisfying job in healthcare within eight months of graduation.
One hundred percent of employer respondents reported a high level of satisfaction with the skills of the HIT graduates they have employed.
CVCC 2018 graduates who set for the national exams performed above the national average.
Program Options
Health Information Technology AAS
Health Information Technology Certificate
Health Information Technology Certificate High School Pathway
Contact Information
For more information about the HIT program, contact:
Debby Cook, M.Ed., RHIA
HIT Program Director
B.S. and M.Ed. - East Carolina University
(828) 327-7000, ext. 4342
dcook@cvcc.edu
Barbara L. Beatty, RHIT
Instructor
AAS Health Information Technology - Catawba Valley Community College
A.A. Business Administration - Catawba Valley Community College
B.S. Health Information Management - University of Cincinnati
(828) 327-7000, ext. 4104
bbeatty@cvcc.edu
For questions regarding admissions requirements, contact:
Admissions
healthcare@cvcc.edu
(828) 327-7000, ext. 4216