Guy Hollar Memorial Golf Tournament
April 26, 2017-- Rock Barn Country Club, Conover, NC
Save the date! Join us in honoring the career and legacy of former Rock Barn Golf Course Superintendent and Catawba Valley Technical Institute Turfgrass alumnus ('72) Guy Hollar. 

Tournament players can enjoy an accommodations discount at the LaQuinta Inn & Suite, 1607 Fairgrove Church Rd. SE, Conover, NC 28613. Use Code ROCKBRN5 when you register online or at check-in.
Congratulations to the 2016 scholarship recipients!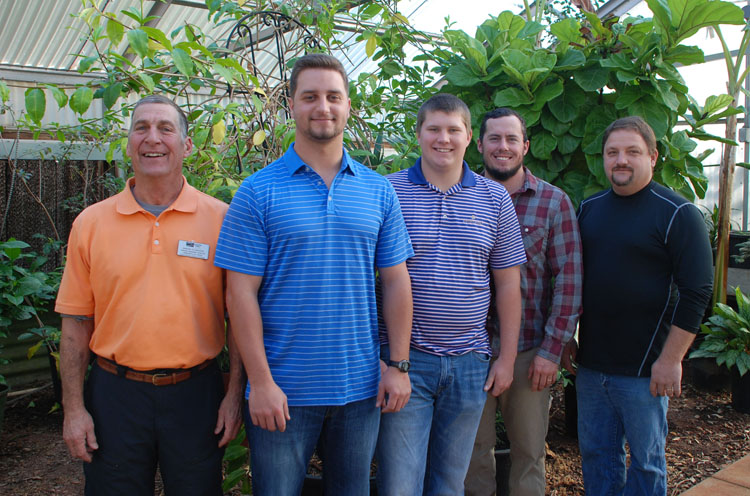 Pictured (from left) are CVCC Turf Faculty Member David Clanton; CVCC Turf Student & Scholarship recipient Danny Bales; CVCC Turf Student & Scholarship recipient Denny Triche; CVCC Turf Student & Scholarship recipient Justin Lail; and CVCC Turf Faculty Member Jimmy Abernathy.

» 2016 Event Photos
To be a 2017 tournament sponsor, contact us:
Mary M. Reynolds
Alumni Director
828-327-7000 ext. 4387
mreynolds@cvcc.edu
Gerry Millholen
'74 CVCC Turfgrass Alumnus
828-455-2284
boats531@gmail.com
Dozens of golf course professionals have Guy to thank for instilling a work ethic that developed successful careers in the turf industry.  
The Guy Hollar Memorial Golf Tournament pays tribute to this quintessential professional. Proceeds will benefit those who might one day walk on the shoulders of giants like Guy Hollar.