Prince Williams, of Hickory
'97 Bandys High School
'08 E-Commerce Certificate
'10 CVCC A.A.S. Internet Technologies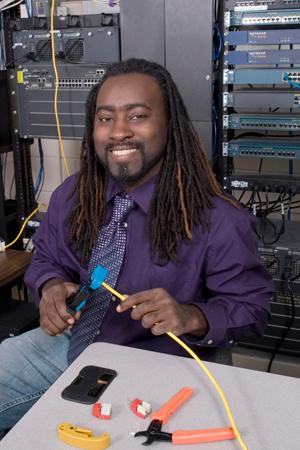 I worked as a meter reader for years and was laid off in the summer of 2007. I'm not the type to complain about my job, I'm the type to do something about it. So, I decided to come back to school.
I had taken a couple of classes at CVCC before, and I knew it was a good place. Plus, I knew some other people that were here or started here, and they recommended CVCC as well. I started full-time classes in 2007.
It's been good here. In Internet Technologies, any training we get is constantly changing and upgrading every day. It's frustrating in one way because we can't learn it all in class. But, our assignments taught us how to find the information we need. We learned how to figure out procedures, create and fix things. So, we have learned how to stay on top of the latest.
I've worked hard to get what I want. My first year in college, I worked second shift loading trucks. I would go to class from 8 a.m. to 2:30 p.m. or so. Then be at work at 3:30 p.m. and work until the early morning hours. I only got any real sleep on Tuesday and Thursday nights and on Saturdays.  After I was laid off from that job, I started working here at CVCC. I worked two jobs on campus while finishing up my degree.
My goal is to work with a company in web design and do my own work on the side. At CVCC, I have gotten the training I need to succeed. I am CVCC.