Portal Training (Student)
Portal Training for Students
MyCVCC Portal Tutorial (Student)
All information related to CVCC will now be available through the MyCVCC Portal. This site replaces the CVCC MyServices and consolidates student services, news and announcements under one site which is accessible via a single log in.

To log in to the MyCVCC Portal go to https://my.cvcc.edu or click the MyCVCC Portal icon at the top of any of CVCC's webpages (http://www.cvcc.edu).

Your login will be your CVCC issued e-mail address and your current CVCC password.
 
| | |
| --- | --- |
| The login screen for Chrome/FireFox/Safari: | The login screen for Explorer: |
Once logged in, your page will look similar to the image below.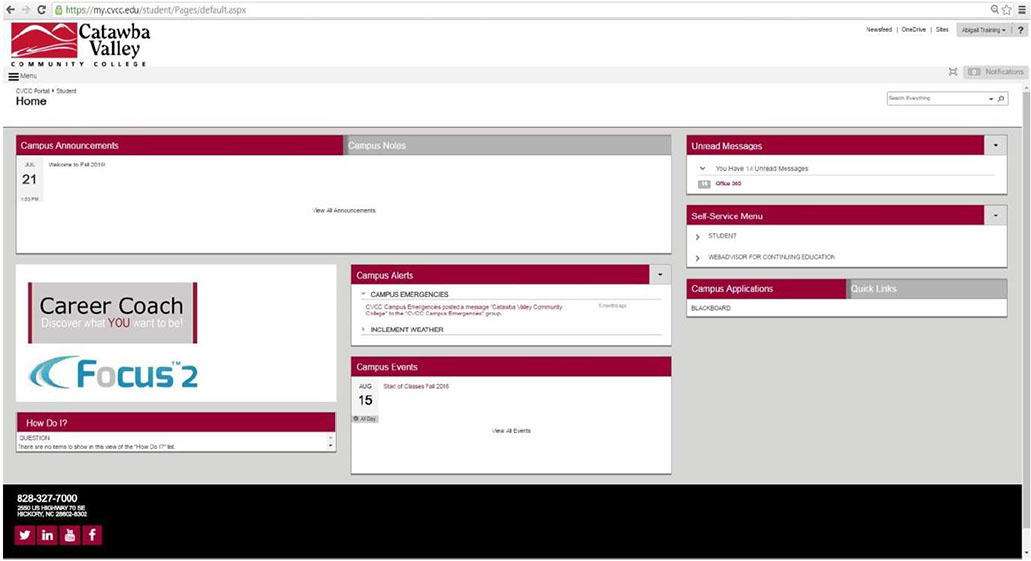 CVCC's e-mail is available under the Unread Messages tab.


The Self-Service Menu (which previously was MyServices) allows access to all student information related to class information, Financial Information, Registration, Grades withdrawals.

To make a payment or view tax forms, click the Student tab and then Financial Information.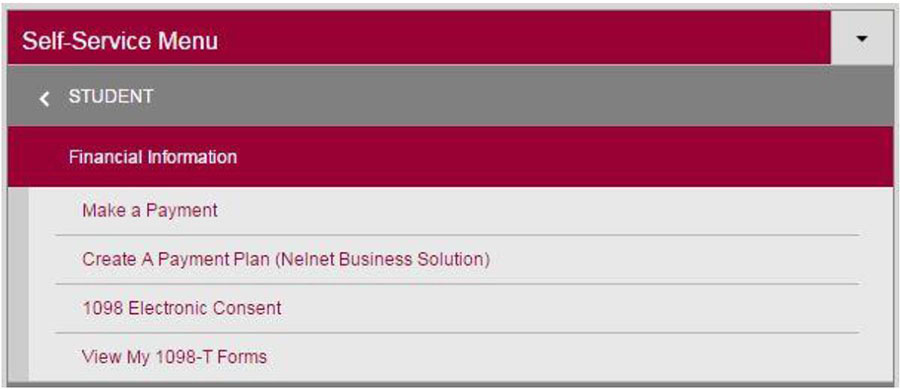 For Financial Aid,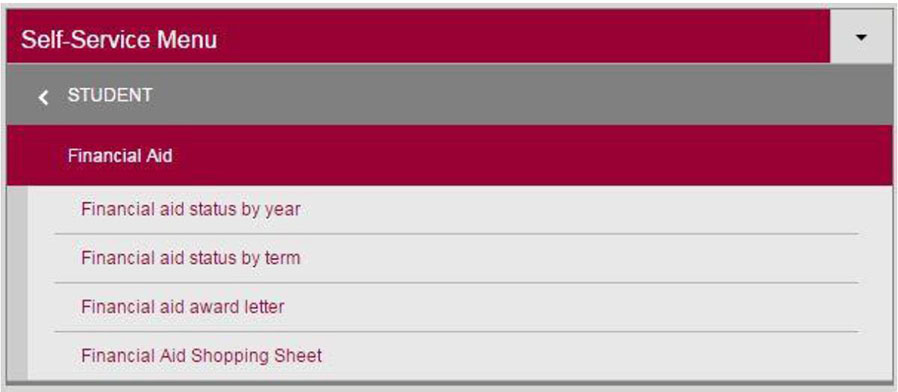 For Registration,

The Academic Profile will display your GPA, Transcript Information, Class Schedule (Past and Present) and your final grades.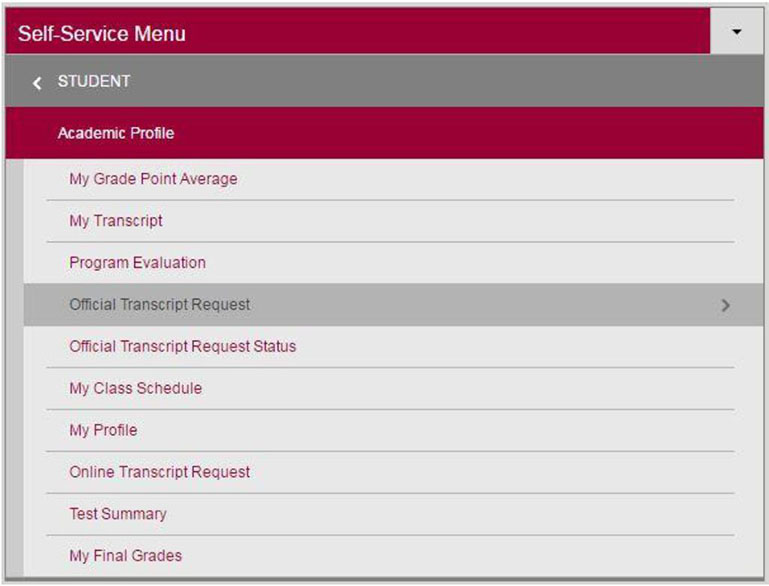 Campus information will be relayed via the Campus Announcement's tab, Campus Alerts tab and Campus Events tab.
The Campus Announcements will post current news on campus.

Campus Alerts will be where campus closings and emergency notifications are posted.

My Alerts will only pop up when a student has a personal Alert Notification. An example would be your GPA dropping below what is required or a hold on your CVCC Business Account.

Campus Events will consolidate as many CVCC calendars as possible. You can post your personal calendar here as well as synchronize your Outlook calendar.

All tabs to this point will be available without having to login a separate time. The applications which do not allow a single sign-on will be housed under the Campus Applications tab. Access to Blackboard will require you to sign in again. It is located under the Campus Applications tab.

When you click the Blackboard tab, you will be sent to the Blackboard login.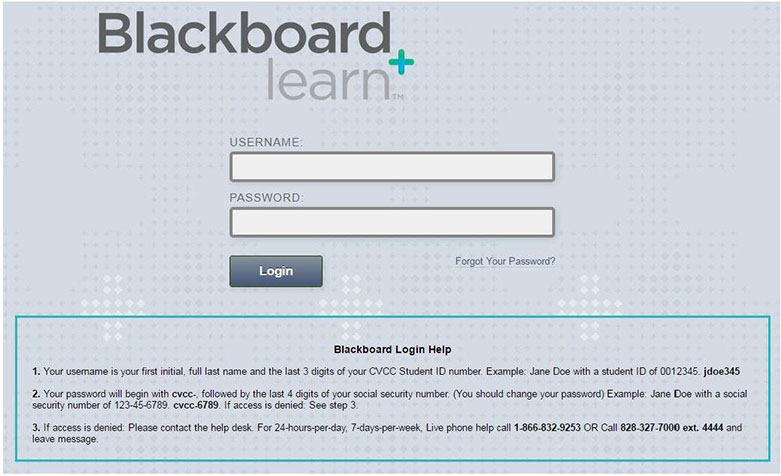 On the other side of the Campus Applications tab, you will find a space for your personal links titled Quick Links. Many links have been added for you; however you may add your own links by clicking the Manage Bookmarks tab at the bottom.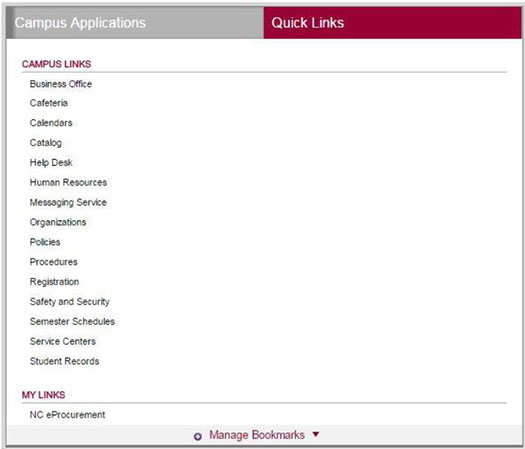 The last function is a master Menu drop down menu located at the upper left of the MyCVCC Portal page. These links provide general information about CVCC in one convenient spot.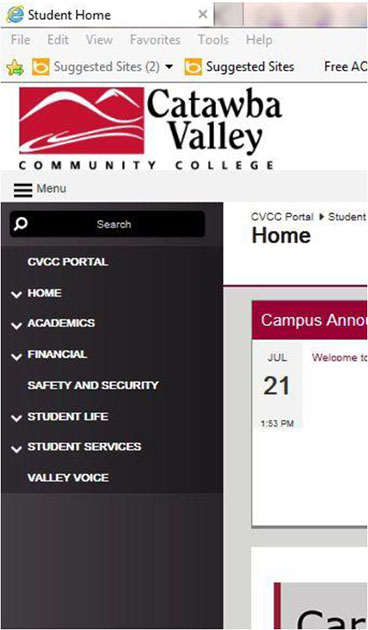 The MyCVCC Portal is available through all browsers on all smart devices. A MyCVCC Portal App will be available later in the fall for both staff and students.

If you have difficulty, please contact CVCC's Help Desk at (828) 327-7000 Ext. 4444