Orders placed Through the CVCC Campus Store

The Campus Store ships only using FedEX
Please allow up to three business days for orders to ship
Delivery Time Estimates
FedEx Ground (arrives in approximately 3-5 business days)
FedEx Home Delivery (arrives in approximately 4-7 business days)
Fed Ex 2nd Business Day (arrives in approximately 2-3 business days)
FedEx Standard Overnight (arrives in approximately 1-2 business days)
The Campus Store currently DOES NOT ship to:
PO Boxes
APO/FPO addresses
International
Additional fees apply to shipments to Alaska/Hawaii
Actual FedEx shipping cost calculated at Checkout
Orders Placed Through Online Vendors
Items ordered through third-party online vendors are subject to the shipping and return policies set forth by the seller.
In-Store Pickup
In-store Pickup is FREE and easy!
Most orders ready for pick-up next-day.
Students will receive emails with updates on their order's status as they become available.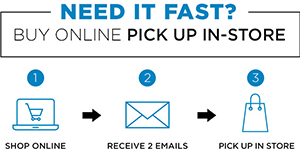 2550 US Highway 70 SE
Hickory, NC 28602-8302
(828) 327-7000