CVCC Job Placement Office
The CVCC Job Placement Office is located in the New Student Center across from the bookstore.
Students have access to jobs listed by employers who call the Placement Office for assistance. The office has listings for full-time, part-time and temporary jobs. Current students, former students and graduates of curriculum programs are eligible for placement services.
Other services available through the placement office include: personal assistance with resume preparation, forwarding resumes, job fairs, and on-campus interviews.
To schedule an appointment for help, please contact Martha Carrillo, Business Engagement Coordinator at (828) 327-7000, ext. 4577 or email your questions to mcarrillo789@cvcc.edu.
Work-Based Learning
Work-Based Learning is a curriculum credit course that can provide on-the-job work experience for students enrolled in eligible programs. Students work in jobs related to their program of study and receive course credit for the learning that takes place on the job.
Not all programs have Work-Based Learning as an option and there are requirements that students must meet prior to enrolling in a WBL course. Work-Based Learning options for eligible programs are listed in each program of study.
To schedule an appointment and discuss Work-Based Learning contact our Talent Development/Work-Based Learning coordinator:
Nick Plemmons at (828) 327-7000, ext 4812 or by email at nplemmons510@cvcc.edu
For more information or to make an appointment, please contact us at (828) 327-7000, ext. 4690. Send faxes to (828) 624-5203.
Operating Hours - Fall 2019

| Day | Time |
| --- | --- |
| Monday | 8:00 AM-5:00 PM |
| Tuesday | 8:00 AM-6:00 PM |
| Wednesday | 8:00 AM-5:00 PM |
| Thursday | 8:00 AM-6:00 PM |
| Friday | 8:00 AM-5:00 PM |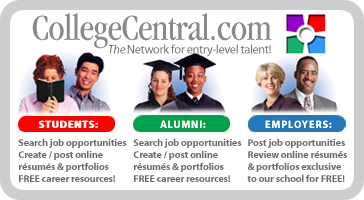 » College Central Network: Where Job Seekers, Employers, and Opportunities Connect. Create, upload and update your résumé, portfolio, cover letter, and more. Submit them to recruiters seeking qualified job candidates like you. Students and Alumni, sign up now.

» Career Coach is a FREE, online resource that can help you explore possible career options, learn about local employment trends and wages, help you determine your educational goals at CVCC and even assist you in creating a resume for your job search!

Find your career path with » Focus 2, our FREE career planning assessment tool.

» Perfect Interview™ is an innovative learning tool that you can use to enhance your job interviewing skills and develop an edge over the competition.