Hazard MSDS
Maintaining a MSDS is a requirement and must contain a sheet for every hazardous chemical and substance used on campus.
PART 1 | PART 2 | PART 3 | PART 4 | PART 5 | PART 6
The MSDS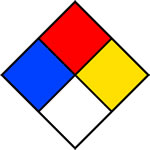 The Material Safety Data Sheet (MSDS) is a detailed information bulletin prepared by the manufacturer or importer of a chemical that describes the physical and chemical properties, physical and health hazards, routes of exposure, precautions for safe handling and use, emergency and first-aid procedures, and control measures. Information on an MSDS aids in the selection of safe products and helps prepare employers and employees to respond effectively to daily exposure situations as well as to emergency situations.
The MSDS's are a comprehensive source of information for all types of employers. There may be information on the MSDS that is not useful to you or not important to the safety and health in your particular operation. Concentrate on the information that is applicable to your situation. Generally, hazard information and protective measures should be the focus of concern.
Material Safety Data Sheets (MSDS's) will usually be made up of at least 10 sections if they comply with the voluntary ANSI (American National Standards Institute) standard Z400.1, with each section describing a specific detail about the product. There may be up to 6 additional sections if information about a product for these sections is available.
Not all the MSD Sheets on record in the CVCC Office conform to this standard. If your sheet is not organized in the manner described in the standard, that's OK. The regulation that defines what must be in a MSD Sheet is 29CFR1910.1200(g)(2) and as long as this regulation is met the sheet is acceptable. All sheets in our office should meet this regulation. Most MSD Sheets that do not conform will usually be organized in a manner similar to the standard that is discussed in the following pages, although the section numbers and heading will not usually match.
 Your Rights
Your workplace is required to have Material Safety Data Sheets available for every single hazardous chemical or substance you use or encounter as a part of your job.
These must be readily available for employee review at all times you are in the work place! In other words, they cannot be locked in an office or filing cabinet to which you do not have access.
If you request to see an MSDS for a product you use at work, and your employer cannot show it to you, after one working day you may refuse to work with that product until you are shown the correct MSDS.
If you request your own personal copy of a Material Safety Data Sheet, your employer has 15 working days to provide it.
If you do not know where the Material Safety Data Sheets are kept, find out!
Employer Responsibilities
Employers must ensure that each employee has a basic knowledge of how to find information on an MSDS and how to properly make use of that information. Employers also must ensure the following:
Complete and accurate MSDS's are made available during each work shift to employees when they are in their work areas.
Information is provided for each hazardous chemical.

OSHA MSDS Requirements
Employers must maintain a complete and accurate MSDS for each hazardous chemical that is used in the facility. They are entitled to obtain this information automatically upon purchase of the material. When new and significant information becomes available concerning a product's hazards or ways to protect against the hazards, chemical manufacturers, importers, or distributors must add it to their MSDS within three months and provide it to their customers with the next shipment of the chemical. Employers must have a manufacturer specific MSDS for each hazardous chemical used in the workplace.
While MSDS/s are not required to be physically attached to a shipment, they must accompany or precede the shipment. When the manufacturer/supplier fails to send an MSDS with a shipment labeled as a hazardous chemical, the employer must obtain one form the chemical manufacturer, importer, or distributor as soon as possible. Similarly, if the MSDS is incomplete or unclear, the employer should contact the manufacturer or importer to get clarification or obtain missing information.
When an employer is unable to obtain an MSDS from a supplier or manufacturer, he/she should submit a written complaint, with complete background information, to the nearest OSHA area office. OSHA will then call and send a certified letter to the supplier or manufacturer to obtain the needed information. If the supplier or manufacturer still fails to respond within a reasonable time, OSHA will inspect the supplier or manufacturer and take appropriate enforcement action.

Material Safety Data Sheets at CVCC
One MSDS for each substance listed on the Hazardous Chemicals Inventory will be kept in a central or primary file in the Personnel Office. The MSDS shall contain all the information required by the Hazard Communication Standard.
When an MSDS is not received with a new chemical or product that contains a chemical, an MSDS will be requested in writing, from the supplier within one (1) week of the date the chemical is received.
Outdated MSDS's will be replaced in the file when updated MSDS's are received from the manufacturer or distributor. The MSDS file will be reviewed quarterly to ensure correlation with the Hazardous Chemicals Inventory.
Next: » Sections of an MSDS