2017 15th Annual Black History Celebration
REP. CHAZ BEASLEY & SHANNON CLEMMONS
HEADLINE CVCC BLACK HISTORY CELEBRATION FEBRUARY 28.

Catawba Valley Community College's Office of Multicultural Affairs and BB&T will hold its annual Black History Celebration Tues., Feb. 28, from 6 to 8 p.m. in the college's Tarlton Complex.
02/13/2017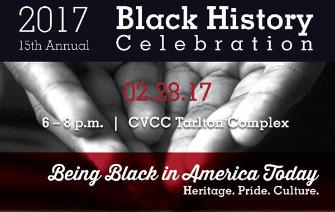 Keynote speakers Rep. Chaz Beasley and Shannon Clemmons will speak on the subject of "Being Black in America Today."
Beasley represents North Carolina's 92nd District in the General Assembly, which includes portions of Huntersville, Charlotte, Pineville and Steele Creek. Raised in Catawba County, Rep. Beasley grew up in a low-income, single-parent home. But thanks to a community that invested him and a quality North Carolina public school education, he was able to overcome the challenges of poverty. He graduated with honors from Harvard University and went on to earn a J.D. from Georgetown Law before launching a successful career as a finance attorney in Charlotte.
Clemons is the principal of Catawba Rosenwald Education Center where she is in her third year of service. From a long line of educators, Clemons has served as a teacher, school counselor and school administrator. She graduated from Maiden High School and earned a bachelor's degree in education from North Carolina State University and a master's in school counseling from Lenoir-Rhyne University. She is currently working on her doctorate in educational leadership at the University of North Carolina at Charlotte. She believes that working in education provides an opportunity to give back and help young people understand who they are, be responsible for their decisions, and become their best self.
Hickory native and CVCC alumnus Chad Bumgarner will have an exhibit featuring his two books"Chad's Playbook to Effective Leadership" and "The Other Side of the Coin." A 1997 graduate of CVCC, he earned a bachelor's degree in organizational leadership at Mercer University in Atlanta. He has pursued a successful technology career working for the past 10 years. But his passion is motivational speaking, team building and leadership coaching. He launched his own leadership training group CDB Consulting in 2014.
Emmanuel Missionary Baptist Church Mass Choir will provide musical entertainment. Food will be served prior to the formal ceremony.
Black History Celebration event partners include BB&T, CVCC Foundation, Inc., Education Matters in Catawba Valley, SkillsUSA, Challenger International Club, CVCC Students Striving for Success, CVCC Minority Males on the Move, and CVCC Rotaract Club.
The event is free to the community. If you have a disability and need accommodations, contactCVCC's Counselor for Students with Disabilities at least 72 hours in advance to allow time to arrange the services at 828-327-7000, ext. 4222, or accommodations@cvcc.edu.
For more information about the Black History Celebration, call 828-327-7000, ext. 4578.
# # #