2018 Community Partnership Awards Presented
Each year, Catawba Valley Community College recognizes organizations that have excelled in supporting college programming in each of its three schools with Community Partnership Awards.
05/17/2018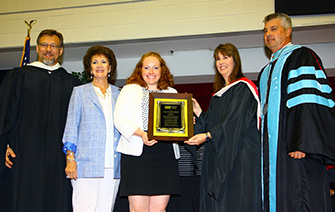 CVCC's School of Academics, Education & Fine Art recognized the Catawba County Library System and the Historical Association of Catawba County for exceptional collaboration on programming for the college's 2017-18 Interdisciplinary Read selection "Just Mercy," by Bryan Stevenson. Both organizations are led by individuals who create opportunities for CVCC students and the community to learn, grow and create hope.
The Catawba Library System was honored for its outstanding efforts in hosting presentations, films, and community discussions on various aspects of "Just Mercy." Those events promoted conversations around the difficult topic of criminal justice reform.
View Large 2018 Community Partner Award Images
The college's African American History course, under the direction of Professor and Historian-in-Residence Richard Eller, compiled the exhibit "African Americans in Catawba County," as well as student-led research for a book "Newton Then and Now" published by the college's Redhawk Publishing.
The Historical Association of Catawba County was honored for its partnership with the college and the CVCC Foundation that created the "Historian in Residence" program. This initiative has fostered numerous innovative collaborations, including production of "Miracle," a documentary about the 1944 polio epidemic. Others include a classroom at the History Museum where a variety of CVCC history courses are taught, and the recent exhibit "Unpacking: How Many Cultures Make Catawba Home."
Suzanne White, Catawba County Library System Director; Richard Eller, Historian in Residence and CVCC Professor of History; Sybil Stewart, President of the Board of Directors of the Historical Association of Catawba County; and Dr. Amber Albert, Executive Director of the Historical Association of Catawba County, accepted the awards.
The School of Business, Industry & Technology recognized Sarstedt, Inc., for its support in launching Apprenticeship Catawba in 2013 with four other manufacturers. With a long history in European style apprenticeships, Sarstedt eagerly entered the partnership that provides academic and technical training to build its future—and highly skilled—workforce. Successful apprentices earn an Associate in Applied Science Degree from CVCC in either Mechatronics or Computer Integrated Machining. Tuition is fully paid by the sponsoring company. The program has been so successful, it was recognized with the 2016 Governor's Award of Distinction for Innovative Partnership and the 2016 N.C. Department of Commerce Outstanding Youth Apprenticeship Award.
The company also provides leadership at the regional and statewide level serving on the NC Apprenticeship Advisory Council and the Charlotte Metrolina Region Apprenticeship Council Committee. Sarstedt staff devote their time and resources to helping build and improve the college's Mechatronics and Engineering programs. They serve on numerous college advisory boards, including the Manufacturing Academy. The company regularly opens its Newton facility to STEM tours coordinated by the college's Education Matters program, and recently donated a new 35-ton Arburg injection molding machine valued at $50,000 to be used in teaching at the college's Workforce Solutions Complex opening soon.
Peter Rumswinkel, President and CEO of Sarstedt's Newton facility, accepted the award.
The School of Health & Public Services recognized the Northwest Area Health Education Center for its efforts to streamline students' orientation process to conduct clinical training at area hospitals. NWAHEC created a portal where students can complete OSHA requirements as well as emergency process training pertinent to each hospital. As a result, students decreased the time spent in orientation and entered their clinical rotations quicker.
NWAHEC partners with the college to fund Camp Med Catawba where select high school students explore healthcare career options and tour CVCC's ValleySim Hospital, Frye Regional Medical Center and Wake Forest Baptist Medical Center.
NWAHEC makes its medical library collections, staff and classroom space at the Catawba Valley Medical Center location available to CVCC students. Conferences and seminars on various allied health and nursing topics are available to students for free or reduced rates to enhance their learning experience.
Karen Martinez, Senior Outreach Librarian with NWAHEC based at CVMC, accepted the award.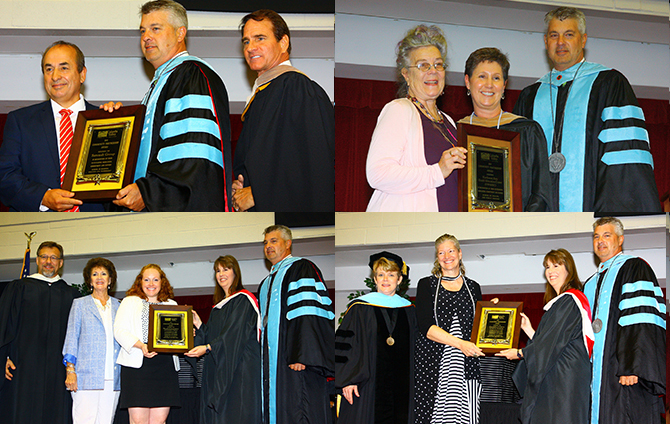 View Large 2018 Community Partner Award Images
# # #