Adult Secondary Credentials Grads Honored
Catawba Valley Community College's Adult Basic Skills program recently honored students who completed their Adult Secondary Credentials for high school completion at a graduation ceremony held in their honor.
06/27/2018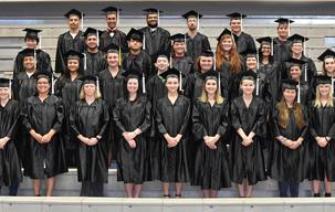 Graduates who elected to be recognized during the ceremony include Chelsea Jo Goodman of Lenoir, Miriam Garcia Del Valle of Hickory, Samantha Cline of Conover, Katelyn Campbell of Cherryville, Christina Buey of Taylorsville, Hannah Pressley of Claremont, Jasmine Brianna Leigh Laws of Taylorsville, Shanda Lopez of Hickory, Kami Thompson of Hickory, Dreama Dickerson of Newton, Karla P. Dominguez of Newton, Katlyn Rose Culbreth of Hickory, Ethan Wayne Mourglea of Hickory, Makayla Moody of Taylorsville, Denise Lunceford of Lincolnton, Heather Spears of Taylorsville, Madison Smith of Conover, Brayden Scarbrough of Taylorsville, Jonathan Rivera of Hiddenite, Marvin Pena of Hickory, Dawn Church of Casar, Lauren Newcomb of Hickory, Estrella Walker of Newton, Shandra Smith of Lenoir, Edward Flores of Hickory, Justin Tyler Moore of Conover, Isaiah Soblotney of Hickory, David Shelton of Hickory, Christopher Bousfield of Hickory, and Caleb Lackey of Taylorsville.
For more information about obtaining an adult secondary credential, contact Jean Spencer, bspencer352@cvcc.edu, 828.327.7000, ext. 4353.
# # #