Alexander Furniture Academy Recognizes Graduates
The second group of graduates of Catawba Valley Community College's Alexander Furniture Academy were recently recognized at a ceremony held in their honor at CVCC's Alexander Applied Technologies Center in Taylorsville.
07/13/2017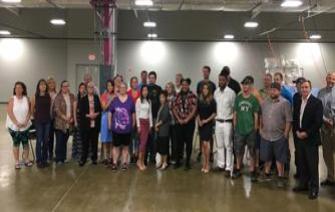 Graduates include Travis Bentley, Jerel Brawley, Dreama Burnes, Tye Shauna Dockery, Blaine Farley, Yer Hang, Rita Harbin, Cory Lee, Neng Lee, Austin Mitchell, Becky Perdue, Leyda Ramirez, Rex Spencer, Cody Utley, Mee Vang, Zachary Wolford, and Va Xiong.
The Alexander Furniture Academy is a public/private partnership between major Alexander County furniture manufacturers and the college to prepare students for skilled positions that are in high demand by some of the largest employers in our area.
In the 24-week training, expert craftsmen and women teach a learning track of Sewing Operator or Upholstery Craftsman.  
For more information about enrolling, contact Lori Price with CVCC's Business & Industry Services, 828-327-7000, ext. 4284, lprice@cvcc.edu.
# # #