Alum Aids Victims of Hurricane Maria in Puerto Rico
Alumna Gerri Fisher Morrison, nursing class of 1991, recently responded to her professional call to action following Hurricane Maria's disastrous impact on Puerto Rico.
11/02/2017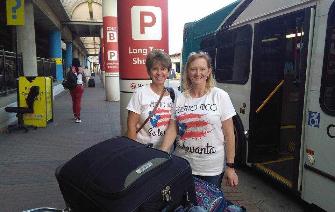 Burdened by the devastation she saw, Morrison sought a way to volunteer her time and medical expertise to help those affected. Friend and fellow nurse, Renee McLean, had lived in Puerto Rico as a child. McLean shared her interest in helping through a social media post. A staff member affiliated with one of the hospitals in Cabo Rojo in charge of coordinating improvised primary care clinics contacted McLean for her assistance.
After solidifying volunteer assignments, the duo embarked on a 10-day relief mission. Airline miles were donated to help offset the cost of air travel, and baggage fees were waived by the airline.
Once in Puerto Rico, Morrison and McLean donned their nursing hats and assisted a volunteer doctor from California. Although Morrison has earned certification as a family nurse practitioner, those credentials are not recognized in Puerto Rico. Subsequently, she volunteered as a nurse. In addition, Morrison and McLean provided personal care products and basic medications for hypertension, diabetes, and congestive heart failure to the medical facility. Items were acquired through donations.
The improvised primary care clinic is staffed solely by volunteers rotating in and out. Morrison stated that the clinic is seeing up to 350 patients a day since most medical offices are not open. Morrison is proud to be a nurse and was happy to serve.
# # #