Alum Donates Hair to Wigs For Kids
Catawba Valley Community College alumnus and staff member Kristen Bumgarner donated 12 inches of her hair to Wigs For Kids recently at the college's Cosmetology Center in Newton.
11/13/2017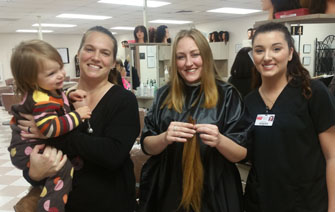 Bumgarner is raising donations for a childhood friend whose daughter lost her three-year battle with Rhabdomyosarcoma in 2014. Jennifer Eckard and her husband Danny of Denver, N.C., operate the nonprofit Fight With ME (sic) in memory of their daughter Miranda.
The money raised by the nonprofit goes to a scholarship at East Lincoln High School where Miranda attended and helps provide gifts for teenagers at the treatment center where Miranda received her treatment. https://www.stbaldricks.org/kids/mypage/6277
"My oldest son Josh turned 17, and I just can't imagine going through something like this," said Bumgarner, who is also a CVCC alumnus. "Growing up with Jennifer and being close friends in elementary and middle school, I want to help her keep her daughter's memory alive through the work that she and her husband do."
Bumgarner has received more than $500 in donations to date.
For more information about the Fight With ME (sic) nonprofit or to donate, visit the Facebook page at: https://www.facebook.com/fighwithmeinc501c3.
CVCC's Cosmetology Salon run by students is open to the public. For operating hours and a menu of services, visit http://www.cvcc.edu/Health_Public_Services/Health_Services/Cosmetology/index.cfm.
# # #