CVCC HOSTS AUTHOR & MUSICIAN JIMMY WAYNE MARCH 28
—"Walk to Beautiful" Author Gives Two Readings—

Catawba Valley Community College's Interdisciplinary Read Committee will host two readings and musical performances March 28 by Jimmy Wayne, author of "Walk to Beautiful: The Power of Love and a Homeless Kid Who Found the Way." He will appear in the Tarlton Complex at 11 a.m. and 6 p.m.
02/17/2017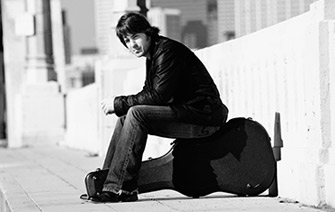 The public is invited to attend this free community event.
During the college's year-long examination of "Walk to Beautiful," students from various core disciplines were challenged to consider themselves as part of a larger community and society. The annual book read also highlights diversity through critical thinking, study and research.
A former foster kid turned country music singer/songwriter, Wayne's songs and story highlight his mission to bring awareness to kids who age out of the foster system and become homeless.
The college welcomes Wayne to campus to talk about his experiences as a homeless teenager, community college student and ultimately a country music star.
In 2010, Wayne walked halfway across America to raise awareness for kids aging out of the system. The next year he became CASA's national spokesperson and released the novel "Paper Angels" which became a made-for-TV movie with the same title. In 2012, he helped get a bill passed extending the age of foster care to 21 in both California and Tennessee.
Wayne lives in Nashville and continues to raise awareness for kids by writing, singing, and speaking.
Individuals with a disability needing accommodations should contact CVCC's Counselor for Students with Disabilities at least 72 hours in advance to allow time to arrange the services at 828-327-7000, ext. 4222, or accommodations@cvcc.edu.
# # #