CELEBRATION OF NATIONS 2017
Catawba Valley Community College's Office of Multicultural Affairs will host a Celebration of Nations Sat., April 8.
04/05/2017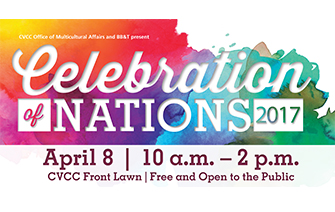 The festival will take place on the front CVCC lawn (U.S. Hwy. 70 in Hickory) from 10 a.m. to 2 p.m. The festival will take place doors in the West Wing Commons Area in case of rain.
Sponsored by BB&T and the CVCC Foundation, Inc., the Celebration of Nations recognizes and celebrates all the cultures that make up the CVCC service area of Catawba and Alexander counties.
Free and open to the public, attendees are invited to dress in their native attire and inform the community about their culture through crafts, pictures, artifacts and games.
Crafts and other activities include making maracas, dragons and lanterns, and recycled painting. There will also be henna tattoos.
A tour of the CVCC Main Campus will be offered from 11 a.m. to noon.
Free food tasting begins at noon.
Featured performers and entertainment include drumming and storytelling by the Suah African Dance Theater. The Lost Jewels belly dance troupe of Granite Falls and Blackburn Elementary School Hmong Traditional Dance group will perform. Hickory Music Factory Steel Drums will perform as well as a dance horse performance by Chencho Tiscareño, or call 828-327-7000, ext. 4578.
# # #