CVCC Alexander Furniture Academy
FIRST CVCC ALEXANDER FURNITURE ACADEMY GRADS RECOGNIZED

The first graduates of Catawba Valley Community College's Alexander Furniture Academy were recently recognized at a ceremony held in their honor at CVCC's Alexander Applied Technologies Center in Taylorsville.
02/16/2017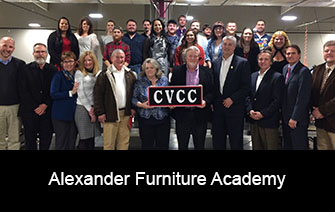 Graduates include Isabella Dos Passos, Amy Childers, Corey Bowen, Hunter Wilkinson, F. Douglas Reed, Storm Slape, Magda Matheson, John Millsaps, Cody Utley, Erika Torres, Wesley Shook, Will Loudermelk, Mary Childers, Jordan Burkes, Lishia Workman, Dustin Munday and Tonya Daniel. Daniel received special recognition for perfect attendance. Childers was also recognized for missing only one day of class. 
The Alexander Furniture Academy is a public/private partnership between major Alexander County furniture manufacturers and the college to prepare students for skilled positions that are in high demand by some of the largest employers in our area.
In the 24-week training, expert craftsmen and women teach a learning track of Sewing Operator or Upholstery Craftsman.  
Founding sponsors include:
Craftmaster Furniture
Kincaid Furniture
Mitchell Gold + Bob Williams 
Scholarship sponsors include:
American Home Furnishings Alliance
Craftmaster Furniture
Hancock & Moore
Huntington House
Kincaid/La-Z-Boy
Mitchell Gold + Bob Williams
Paladin Industries
Taylor King Furniture
Applications are being accepted for the next Alexander Furniture Academy to begin in July 2017. For more information about enrolling, contact Lori Price with CVCC's Business & Industry Services, 828-327-7000, ext. 4284, lprice@cvcc.edu.
# # #