CVCC Choral and Ensembles Group Schedule Fall Concert
Catawba Valley Community College's Chorus and Ensemble groups will perform a fall concert Thurs., Nov. 17, at First Presbyterian Church in Newton at 7:30 p.m.
10/24/2016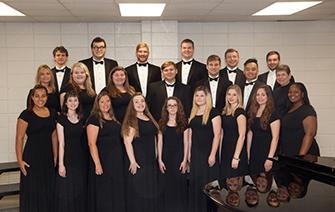 There is no charge for admission and the community is invited to attend.

The concert will include beautiful pieces by the English composer John Rutter, soul- searching spirituals and a bit of Barbershop.  
 
This performance is part of CVCC's continuing dynamic, thought-provoking music and art offered to enrich the cultural climate of the campus and community.
 
First Presbyterian Church is located at 701 N. Main Ave., Newton, NC 28658.
 
For more details, contact CVCC Choral Director Caroline Simyon, 828-327-7000, ext. 4305, csimyon@cvcc.edu.
 
# # #