CVCC Personnel Release Art Book: "West of Mercy"
07/08/2019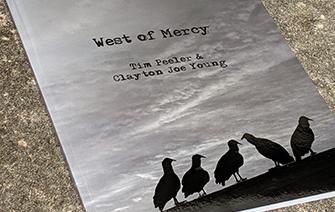 Catawba Valley Community College Learning Assistance Center Director, Tim Peeler and Photographic Technology Program Director, Clayton Joe Young have teamed up to create a new art book titled "West of Mercy."
In the limited edition volume, Peeler's poems are paired with Young's haunting black and white images of western North Carolina, both past and questionably present. Miniscule details hidden in verse tell stories—imagined or otherwise—about inhabitants of vanishing landmarks.
Dubbed "the poet laureate of the hard luck hound dog," Peeler renders in verse tales of characters whose "second chances are just out of reach," according to one reviewer. Young's skill as a visual anthropologist brings life to Peeler's characters whose lives have been lived in the margins.
Winner of the Jim Harrison Award for contributions to baseball literature, Peeler has published 12 books of poetry and four regional baseball histories. He was a finalist for the Casey Award (baseball book of the year) and the SIBA Award. He was invited to read as part of The Great Fenway Park Writers Series in Boston in 2013.
Young's photography has won numerous awards and been shown in galleries across the state. His work has been showcased in seven different volumes, including art books, poetry and heritage pictorials.
To purchase "West of Mercy," email NewThirdLungPress@gmail.com.
# # #