Construction Careers Academy Open House
The CVCC Alexander Center for Education in Taylorsville will host an information session on a new Construction Careers Academy on Tuesday, June 26, 5:30 to 6:30 p.m. The session is open to anyone interested in starting a career in construction.
06/18/2018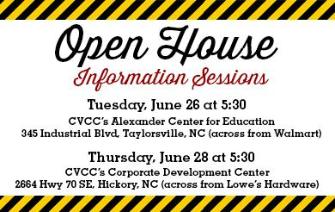 The Construction Careers Academy is a cooperative partnership between CVCC and area construction companies. The academy's goal is to actively identify and develop a skilled construction workforce for the future.
The academy includes an introductory course in Construction Fundamentals, followed by opportunities as a paid intern with area construction firms. Anyone interested in exploring a new career in construction is encouraged to attend the information session.
The first-ever "Introduction to the Construction Trades" four-week program will be held July 21 through August 16 at the CVCC Alexander Center for Education, located at 345 Industrial Boulevard in Taylorsville. This program is designed for high school juniors and seniors that are familiar with basic construction skills and have NCCER (National Center for Construction Education & Research) CORE Certification, or others with construction experience who complete a construction competency exam.
The program outline includes: "Construction Safety" on Saturday, July 21 and July 28 from 8:30 a.m. to 3:00 p.m.; "CPR and First Aid Certification" on Saturday, August 11 from 8:30 a.m. to 3:00 p.m.; and "Employability – Tools for Success" on Monday, Wednesday, and Thursday during the weeks of July 23, July 30, August 6, and August 13 from 4:00 to 7:00 p.m. Upon completion, graduates who are age 18 by September 1st will have the opportunity to interview for a paid internship with area construction companies.
The cost for the program is $180 per person; however, scholarships are available.
CVCC is also planning an "Introduction to the Construction Trades" eight-week evening program for those with no construction experience. The course will run from September 15 to November 15 on Monday, Wednesday, and Thursday from 4:30 to 7:30 p.m. The location is to be determined.
For more information about CVCC's new Construction Careers Academy, visit www.cvcc.edu or contact Keith Sipe, CVCC Director of Business & Industry Services, at (828) 327-7000 ext. 4613 or bsipe498@cvcc.edu.
# # #