Dean's List for Spring 2019
Catawba Valley Community College recently announced the Dean's List of students for the spring 2019 semester. The following students who have a grade point average of 3.5 up to 3.79 were recognized:
06/19/2019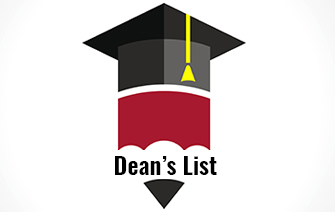 Alexander County
Emma Alcanzie Albertino, Kathleen Alrutz, Masson Ray Baker, Daniel Barnes, Amy Michelle Bentley, Carmen Elizabeth Bonilla, Hayley Sophia Boone, Matthew Dylan Bowman, Nicholas Wilson Bowman, Savannah Taylor Brackett, Avery Scott Braswell, Andrew Philip Bresch, Gabriel Allen Carswell, Carlee D. Caskaddon, Ruben Castillo-Martinez, Breanna Payton Church, Dakota Brooke Clawson, Melanie Elizabeth DeSantiago, Anthony Logan Elder, Kaley Grace Farley, Sydney Dawn Fox, Allison Suzanne Gambill, Dixie Annette Gibson, Katelyn Lee Gibson, Nayley Gomez-Corado, Janet Ann Harriman, Riley Joshua Hatton, Luke Ryan Hensley, Taylor Lee Holstein, Iain Patrick Howard, Isaac Dean Icard, Bailey Katherine Ingle, Zachary Tyler Kunkle, Aisha Joy Little, Caleb Daniel Little, Jalen Turner Mayes, Timothy Lee McCammon, Jaanai Mendez-Santiago, Chesney Grace Millsaps, Heidi Marie Millsaps, Kayde Marie Morgan, Jenna Beth Ramsey, Cortney Paige Ratliff, Obed Renteria, Nolan Daniel Ritchie, Summer BreAnn Roberts, Justin Gray Robinette, Jose Karin Rodriguez-Cruz, Novia Fawn Shoup, Madison Elizabeth Starnes, Austin Ryan Steele, Alexander Michael Stephens, Yua Isabelle Vang, Autumn Brooke Walker, Lewis Wayne Whaley, Vanessa Brooke White, Kasey Michelle Wood and Autumn Golia Yang.
Burke County
Dylan Jacob Adkins, Terry Dakota Bryant, Randi Rose Childress, Cameron Church, Timothy Cook, Cody Dumaine, Autumn Helen Elder, Cynthia Michelle Greene, Austin Christopher Hicks, Natasha Lonnaie Palmer, Timothy Isaiah Perkins, Natalie Jeanette Poteet, Whitley Erin Pylant, Abigail Ruth Qurollo, Joseph Salig, Austin Lee Shook, Clint Austin Spinks, Nkou Xiong, and Sandy Yang.
Caldwell County
Lisset Aguilar, James Zachary Archer, Jonathan Austin Blevins, Amy Marie Gonzales, Ashley Nicole Isaacs, Heather Michelle Koon, Jaysen Panayotis Lagusis, Sean Patrick Moren, Alexandra D. Plantone, Devin Scott Sigmon, Ronda Darlene Stafford, Victoria Danielle Stikeleather, Taylor Shaylen Sweat, Charles Hulon Washburn, and Lela Tswqab Yang.
Catawba County
Melanie Lynn Abernathy, Thomas Chase Abernethy, Hannah Ramona Adam, Maria Fernanda Adame-Rodriguez, Kevin Scott Adkins, Peyton Alexis Agudelo, Whitney Aguilar, Lexi Paige Aitken, Shea Elizabeth Anderson, Sara Elizabeth Angus, Bryanna Nikole Arndt, Zackary Landon Atapovich, Brianna Lacy Austin, Alexander Paulin Aviles-Castaneda, Danielle N. Baker, Madison Lee Barnett, Harley Marie Baxter, Amy Regina Beal, William McKinley Beam, MacKenzie Nicole Beatty, Meredith Grace Becker, Austin Riley Bell, Esmeralda Benitez-Ibarra, Joshua Dale Billington, Rachel A. Blake, Richard Lawrence Blake, Miranda Nichole Blankenship, Jon Blink, Skyler Marie Bolden, Owen Michael Bolick, Brandie N. Boone, Anthony Scott Boston, Aimee Boutchard, Sidney Blake Bowman, Sydney Nicole Bradshaw, Jamie IIiok Brannon, Emma Kathryn Brantley, Amy Stiles Brendle, Bre'hona Jonae Bridges, James Zackary Brittain, Taylor Elizabeth Brittain, Skyla Monet Brodie, Chelsea Marie Brown, Justin Tyler Brown, Alicia Geneva Buckminster, Morgan Drake Bumgarner, Arielle Nicole Bunton, Jennifer Nicole Butler, Amber Buxton, Kaley Ellen Byers, Christopher Wayne Caldwell, Faith Lynn Canipe, Madison Grace Canipe, Charles Powell Cannon, Saied Ahmir Carson, Brooke Ashley Carswell, Marissa Castillo, Alejandro Cervantes, Madison B. Chandler, Lina Chang, Cole Eugene Chapman, Alondra Jamile Chavez, Vanessa Chavez, Faith Ann Christensen, Jose Cisneros, Tucker Everette Clark, Cleome Lola Clayborne, Brittany Alexandria Cline, Chad Taylor Cloninger, Abigail Cynchoia Clontz, Kayla M. Cochran, Austin Michael Coffell, Joshua Alan Coffey, Grace Alexandra Collie, Nathan Lucas Collinsworth, Ioana Victoria Costescu, Hunter Mitchell Crooks, Abigail Elisabeth Crowder, Garret Davis Cultrera, Drew Jacob Danner, Taliyah Lashea Danner, Morgan Taylor Davis, Michael Perrin Dennis, Erika Cerecedo Dickman, Kelly M. Dishmond, Brantley Tate Durham, Milequa Shania Eason, Alexis Jabrea Ojanae Edgerton, Chloe Ann Edwards, Somer Yvonnie Ehman, Dana Nicole Ellis, Martin Espinosa Almazan, Anthony Kwasi Essien, Michael Nathanael K. Estes, Nevaeh Skye Estrada, Jacob McKinley Farr, Janiece Wright Ferguson, Lana Faith Foss, Charisma Nicole Fox, Sarah Lindsey Fulbright, Thomas Wayne Fulbright, Zachary Taylor Gardner, Parker Ryan Garrison, Nikkita Anastacia Gibson, Gerald Brian Glass, Carly Frances Godfrey, Jada Janaye Grant, Olivia Marguerite Grise, Alera Elizabeth Hager, Mazzylyn Adeara Hamby, Holly Denise Hamilton, Michelle Renee Hansley, Shazeema Hardin, Devon Alexander Harris, Drake Edward Harris, Grant Andrew Harris, Spenser Patrick Harris, Rebecca Leighann Head, Wade Hampton Headrick, Dylan Alexander Hedrick, Regan Analisa Hedrick, Amber Nicole Heffner, Amber Marie Hefner, Deborah Lee Ann Herman, Faith Pearl Herman, Lucia Hernandez-Camacho, Amanda Lizbeth Herrera-Garcia, Brett Edward Herron, Brandi Nicole Hicks, David Lee Hicks, Karlina Callee Ho, David Zachary Hofeldt, Jonathan David Honeycutt, Ashtyn Michelle Hopson, Rodney Houser, Payten Lynnae Hudson, Jordan Brianna Huffman, Katherine Elizabeth Huffman, Eduardo Ibarra-Lemus, Kayley Michelle Ingle, Joseph Robert Inscoe, Jena Caroline Ivey, Debby Jimenez, Logan Andrew Johnson, William Thomas Johnson, Trent Edward Jones, Brett Ray Jordan, Daniel Garrett Kahill, Max Weskey Kain, Megan Danielle Keim, Phillip Wesley Keller, Erin Grace Kelley, Angelina Nkaujnaas Khang, Glory Khang, Katelyn Jo Kirby, Karsten Lee Klingenberg, Justin Thomas Koch, Lindy Makayla Kuchenbecker, Travis Dean Kyer, Cami Danne Lacy, Alyssa Michele Lail, Brett Dillon Lands, Madison Kelly Lane, Joshua Adam Langer, Jacob Paul-Tyler Lasecki, Amy McMahan Laws, Haley Elizabeth Laws, Kyle L. Laws, Kenneth Roman Lazo, Paigeland Marie Leatherman Gragg, Keith Aaron Leiting, Emma Grace Lentz, Addison Lewis, Matthew Todd Logan, Emilio Lopez, Maria Elena Lopez, Pamela Lopez-Magana, America Lopez-Martinez, Alex J. Lor, Lylian Mai Ka Lor, Sena Lor, Rafael Luna-Paz, Shelby Nicole Lunn, Ariana Marie Lurie, Madison Elaine Mace, Summer Leigh MacIas, Julia Ann-Marie Mann, Wesley Jay Marlow, Majirra Sahara Marshall, Andrew Scott Martin, Samantha Arielle Martinez, Noelia Martinez Longinos, Erik Arne Mattison, Alyssa Ann-Marie Maynard, John Lee McAuley, Lauren Taylor McCall, Amber Kate McCray, Allison Grace McGuire, John Graham McIntosh, Amanda Lee Ann McPherson, Miriam Aylin Mendoza-Perez, William Patrick Anthony Merbach, Kristin Nicole Mikeal, Kinsey Lea Miller, Cooper Bryson Mingus, Shelby Margret Minton, Gabriela Mladin, Carlie Grace Moore, Isaiah Wayne Moore, Makayla Rochelle Moore, Seth Alexander Moore, Timothy James Moore, Macy Lea Moose, Boris Alain Morales-Gonzalez, Yisel Mora-Vieyra, Lacey Lynn Moretz, Jena Rae Moses, Sydney Lauren Moses, Ge Moua, Sarah Suzanne Mullen, Valerie Murphy, Mary Grace Neill, Andy Nguyen, Ashlyn Leah Drew Nichols, Carson Eric Parker, Justin Alexander Parkhurst, Jesica Citlali Parral Tapia, Sequala Tashun Parson, Lindsay Dawn Payne, Abigail Lee Peeler, Mia Christine Petruzelli-Sample, Shakeittha Maya Phillips, Sierra Shyanne Pinson, Amanda Marie Pippin, Trinity Rochelle Podger, Diana Pollitt, Samuel Robert Poovey, Brandon Hunter Pope, Richard Whitfield Preston, Quy Timmy Quach, Elisha Scott Queen, Yanco Aaron Ramirez Mejia, Amiya Randles, Rachel Luna Rangel, Aliyah Rao, Parker Ansel Rawson, Katherine Elizabeth Reese, Tania Resendiz-Martinez, Jaclynn McKinley Reynolds, Sean Brandon Rhoney, Keegan Lyn Rice, Kaden Todd Richmond, Caroline Cates Riggan, Devin Ray Roberts, Dylan Blake Roberts, Holly Marie Rodatz, Christian Rodriguez-Herrera, Adrian Rojas, Kristen Victoria Roles, Amber Nicole Rose, Mandi Rowell, Devon Marie Rybacki, Tapanga Salai, Ben Luis Salmen, Andrea Sanchez Chavez, Zachary Laich Schellenberger, Kristian Lynn Schlichting, Hannah Marie Schweighardt, Haylie Mychelle Sepulveda, Emily Nicole Setzer, Jacquelyn Seymour-Rudecoff, Hannah Nicole Shew, Cora Marie Shook, Thomas Andrew Shook, Maggie Marie Shugart, Jada Katherine Yung Sigmon, Michelle Tamara Sigmon, Julie Elizabeth Simpson, Callie Singchanh, Susana Quiros Smaligo, Jeffrey Alan Smith, Riki Leigh Smith, Samantha May Smith, Delaney Grace Smyre, Mercedes Skye Songer, Destiny Denae Spring, Elizabeth Claire Stalnaker, Samantha Denise Stansell, Diamond Denise Steward, Meredith Marie Stewart, Valerie Hope Stiltner, Deana Marie Stinson, Madison Rose Stracener, Charles Scott Styborski, Shannon Surratte, Aniya M. Taylor, Branden Taylor, Carnella Thao, Joshua Nathaniel Thomas, Nickolas Lee Thompson, Grace Olivia Thorp, Mercedes Patricia Torres, Frank Allen Townley, Teashia Leatrice Townsend, Jesus Trejo-Trejo, Alex Turner, Emily Leanne Turner, Jacob Dalton Turner, Asia Ricci Valentine, Alyssa Nkauj Hli Vang, Essence Siumay Vang, Ethan King Vang, Linda Vang, Mai Lee Vang, Mai Der Vang, Nou Ker Vang, Stephany Diana Vasiu, Lydia Chantee Vega-Cordero, Shari Lynn Velazquez, Cindy Vidal-Aquino, Grace Darlene Villar-Matamoros, Thinh Dang Vo, Ivy Vue, Annie Mattea Walshak, Sierra Amelia Warnes, Zachary James Watters, Britany Cheyenne Weaver, Tyler Shane Wesson, Hayden Christopher Whalen, Justin Michael Whalen, Kayla Nicole White, Jezzeriah Massrekah Whitener, Brennan Isaac Wickham, Chloe Grace Wickham, James Michael Wilkinson, Celina Angel Williams, Sierra Joy Williams, John Daniel Willis, Logan Michael Wilson, Kelly Amelia Wise, Jonathan Xayavong, Mua Chee Xiong, Myna Xiong, Natasha Kaj Siab Xiong, Thue Xiong, Marisa Anne Yandle, Brittanie Vanessa Yang, Jennifer Yang, Kong Nhia Keith Yang, Kou Yang, Lee Yang, Nicholas Satao Yang, Tony P. Yang, Txuj Chee Yang, Colby Garrison Young, Ryan Edward Yount, Jose Luis Zavala, and Jilda Marie Zopon Ceren.
Gaston County
Madison Kristine Ball, Stephany K. Carrillo, Brionna Dominique Greene, Grace McKensi Hager, Jarrett A. Link, Seth Mack Lynch, Heather Paysour Newton, Ashton Beach Odom, and Deja Monae Ross.
Iredell County
Yong Chi, Brianna Faith Collins, Kassidy Ann Dent, Kara Renee Feimster, Deanna Gilmore, Morgan Leigh Hellard, Cynthia Vanessa Lainez, Hanna Elizabeth Marada, Jennifer Lynn Martinez, Emily Renae Moore, Tabitha Metivier Nance, Macy Danielle Pope, Brian Jackson Sherrill, Deanna Michelle Simpson, and Christy Danielle Sloan.
Lincoln County
Emily Grace Baker, Stacey Leanne Brittain, Zoi Reighann Canipe, Joshua D.W. Carter, Meleah Shunta Chesney, Jacqueline D. Cody, Krystallee Nicolle Cornell, Branden Connor Edwards, Dylan Alexander Foster, Kady Suzann Fox, Noah Glenn Fox, Grace Lynn Gantt, Daylen Krystopher Goodson, Hailey Elizabeth Harkey, Laura Ann Hernandez, Abigail Nichole Hicks, Joshua Kaine Hilton, Travis Cody Huffman, Allyson Jordan, Hunter Thomas King, Daniel Neal Lackey, Brennen Patrick Little, Graham Evan Maggart, Alexandria Martin, Lydia Aren McSwain, Megan Elizabeth Morrison, Branden James Nuhfer, Jamie Elizabeth Pekera, Kacei Quiros Munoz, Trudie M'Shelle Rainwater, Jessica Marie Reed, Mauro Trejo Renteria, Eljae D. Roe, Daniela Rojo-Sanchez, and Caroline Nicole Walker. 
Other students recognized for earning CVCC's spring 2019 Dean's List include Emma Faith Ward of Avery County; Chance James Daquila of Cabarrus County; Drew Bryant Latham of Camden County; Nakitta Caroline Roberts and Makayela Elizabeth Spurling of Cleveland County; Zachary Ross De La Cruz of Macon County; Victoria Denise Hailey and Jacob David Thompson of Mecklenburg County; Leah Brooke Ricker of MitchellCounty; Jenna Lentz Lakey of Rowan County; Kaleb Drew Green of Rutherford County; Rachel Kate Delcamp of Stokes County; and Lewis Daniel Vine of Watauga County.
# # #