Distinguished Alumni Awards Presented
CVCC's Alumni Association recently awarded its 2018 Distinguished Alumni Awards during commencement this May. Three alumni who have brought distinction to themselves, credit to the college and genuine benefit to their communities were honored.
05/17/2018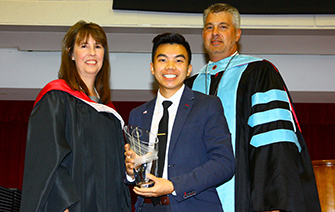 The School of Academics, Education and Fine Arts recognized 2015 alum Johnny Vang. The youngest of six siblings to graduate from Challenger Early College High School, Vang made his mark at CVCC. He founded the Health Occupations Students of American Chapter, served as a Phi Theta Kappa International Honor Society officer, won the state SkillsUSA Prepared Speech Competition, finished in the top 10 at the National SkillsUSA Entrepreneurship Competition, and was a finalist in the Catawba County Chamber's Edison Project.
Vang made an equally impressive mark at the University of North Carolina at Chapel Hill where he was selected as a United States Youth Ambassador for the United Nations, conducted cardiac stent research and had cancer research published. He was a member of several UNC Chapel Hill honors and service organizations, and received numerous awards and scholarships, including the Buckley Public Service Scholarship, Chancellor's Earnest L. Mackie Award, Chancellor's Brenda W. Kirby Award, and Frances L. Phillips Travel Scholarship.
This summer, Vang is conducting a medical mission to Laos through Project GoMed, a medical nonprofit he founded. He plans to become a cardio-thoracic surgeon.
The School of Business, Industry & Technology recognized 2005 alum Rex Benfield. An entrepreneur at heart, Benfield founded Prodigy Voice & Data, one of the most successful information technology firms in the Hickory Metro area. His company provides communications solutions, network infrastructure, cloud services, managed IT services, IT support and consulting, and systems security.
Benfield was selected Lincoln County's 2016 Chamber of Commerce Member of the Year, and voted 2017 Businessman of the Year by the Hickory Jaycees. He is involved in several other business ventures across the region in real estate, manufacturing and retail.
He is an Eagle Scout and devotes much of his time to the community serving on the Board of Directors for the Hickory Downtown Development Association, as well as the Advisory Board for CVCC's Information Technology Program.
Benfield sponsors many CVCC outreach programs that facilitate information technology career exploration, including CVCC's annual Technology Fair, Extreme Entrepreneurship Tour, Shark Tank competition and SkillsUSA Program.
A graduate of CVCC's Information Systems program, he also earned a bachelor's degree in Business Administration at Western Carolina University, and a bachelor's degree in Management & Business Ethics at John Wesley College.
The School of Health and Public Service recognized 2014 alumna Porschia Wimbush. As a cosmetology student, Wimbush quickly demonstrated her stylistic talent and abilities by entering and winning first place in the 2014 SkillsUSA state cosmetology competition. She bested that award by winning second place in the nation in the SkillsUSA national competition.
After graduating, she went to work at a local salon where she honed her skills and began preparing for her next career move. Working closely with CVCC's Small Business Center to make her dream of owning her own salon come true, she researched and developed a business plan. In January of 2017, she opened Get Porschd Salon-GPS Salon, located on US Highway 70 in Hickory. She has also developed her own hair line, Gliterrati Hair Collection.
Not only passionate about cosmetology, Wimbush is also passionate about serving others and has contributed to her community by holding drawings for her clients to receive free services. She provides discounts and makeover giveaways to those in need. She has also partnered with other area business owners to join her in giving back to those less fortunate in the community.
Wimbush hired a CVCC classmate and alum to work in her salon. She is a frequent guest lecturer at CVCC, sharing her story with students to demonstrate that they, too, can be successful on their educational and professional journey.
About the CVCC Distinguished Alumni Awards:
Alumni who have been awarded a degree, diploma or certificate from Catawba Valley Community College and who have made outstanding contributions in one or more of the following ways are eligible for nomination:
•  Exceptional accomplishment in their chosen field;
•  Exceptional service in local, state or national affairs; or
•  Exceptional service in support of Catawba Valley Community College.
Nominations from the community at large, as well as from faculty, staff, students and alumni will be accepted for the 2019 awards beginning November 1, 2018. For more information, contact Mary M. Reynolds, Director of Alumni Affairs, 828-327-7000, ext. 4387, mreynolds@cvcc.edu.

# # #