Alumni Honor Retired Department Head
Catawba Valley Community College alumni who majored in Turfgrass Management Technology recently reunited to honor beloved retired faculty member and mentor Harry M. DuBose.
05/03/2019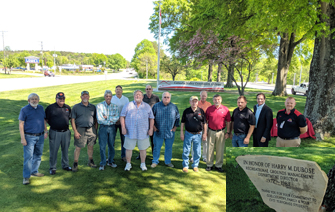 Alumni from the early through mid-1970s dedicated CVCC's golf hole to DuBose with an etched stone inscribed with the words: "In Honor of Harry M. DuBose, Recreational Grounds Management Department Director, 1972-1983. Thank you for your commitment to God, Country, Family and your CVTI turfgrass students."
Students in the college's Turfgrass Management Technology program use the golf hole as a hands-on learning experience to apply what is taught in the classroom. Students execute proper mowing, fertilizing, aeration techniques to master the techniques required for professional golf course maintenance.
A native of Socastee, S.C., DuBose earned his bachelor's and master's degrees in agriculture and horticulture from Clemson University. He was recruited in 1970 by (then) Catawba Valley Technical Institute to teach Recreational Grounds Management by the college's first president, Robert E. Papp. He was appointed department head in 1972.
During his 13 years at the college, DuBose taught many veterans returning from the Vietnam War enrolled under the GI Bill. He shepherded those soldiers and hundreds of other students into successful careers in the green industry. Many went on to become superintendents of golf courses throughout the country. A number of them launched their own businesses consulting for or selling equipment and other provisions required to groom golf courses and professional sports fields.
"Without Harry DuBose, many of us would not have been able to put food on the table and provide for our families," said alumnus Jim Merritt during the dedication ceremony. Merritt founded Clemmons, N.C.-based JRM, Inc., a supplier to golf courses all over the country. "I've had lots of brilliant teachers, but none of them were the teacher that Harry was. He cared and held us to a higher standard, sticking by us through good and bad times."
After a time at NC State University, DuBose left the college to launch a turfgrass program at Horry-Georgetown Technical College. He taught agriculture in several Horry County (SC) high schools. Prior to his retirement from that system, his agriculture program was named one of the top three in South Carolina.
Nonetheless, throughout the years DuBose continued to stay in contact with his CVCC students. DuBose continued to shepherd his mentees as they advanced their careers, many into retirement.
DuBose is active in the college's Alumni Association, serving as a volunteer for the group's annual golf tournament in memory of noted alum Guy Hollar. DuBose joined the college faculty the same year Hollar graduated. DuBose had the ability to steer his students toward internships at Rock Barn Golf Course where Hollar served as superintendent. Hollar mentored hundreds of CVCC students until his untimely death in 2008. DuBose was instrumental in organizing a tournament in Hollar's memory that raises scholarships for deserving students studying turfgrass and horticulture.
In addition to a distinguished teaching career, DuBose also served in the U.S. Army for 38 years. He served in the Army Reserve and Army National Guard and retired as a colonel in 2007.
He and his wife, Gayle, have two adult children and two grandchildren. They reside in Myrtle Beach, S.C., where he continues his lifelong love of horticulture by tending a prolific flower and vegetable gardens.
# # #