FRONT LINE RED HAWKS: CVCC alumni Lipford providing more than care
For Catawba Valley Community College alumni Elizabeth Lipford, the past few weeks in the medical field have been both a trying and rewarding time for her.
05/11/2020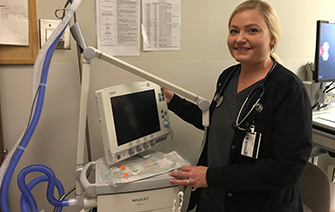 HICKORY, N.C. — For Catawba Valley Community College alumni Elizabeth Lipford, the past few weeks in the medical field have been both a trying and rewarding time for her.
Lipford, who graduated from CVCC in 2000, works at Frye Regional Medical Center in its respiratory therapy wing where she assists patients in a vast spectrum of age — all who are all at risk due to the COVID-19 pandemic. 
"With respiratory therapy, we deal with a wide range of care — from the elderly with advanced pulmonary disease to pre-term infants whose lungs aren't fully developed," she said. "We help people with viruses, diseases and even infections of the cardio pulmonary system mainly. Anyone with an airway, we have to be there at bedside. We are part of a co-team. We do other complex procedures such as bronchoscopies. We manage ventilators. We do a wide range of things."
The intensive care provided by Lipford and other respiratory therapists have included many long days.
"I usually work 12 hour shifts three to four days a week," said Lipford, who grew up in Charlotte, but now resides in Hickory. "It varies. Some weeks, you work weekends. It just depends on each day if you have help or not. You have demanding responsibilities throughout the day. You could go from being in the emergency room to being in the intensive care unit if they need you. It can get very demanding."
With the COVID-19 pandemic ongoing, Lipford's job has become more stressful than usual, and she's adapted into somewhat of a counselor's role for those she works with.
"With COVID-19 patients, we play a huge role," she said. "We are at the bedside. These patients literally feel emotionally isolated with this disease. Obviously having the inability to breathe is terrifying. We are the front liners. We give them that hope and that reassurance that we are here to help."
While being in the medical field comes with its rewards, Lipford has also placed emphasis on remaining healthy when she comes home to her 14-year-old son T.J. and husband Tom.
"It's scary," she said. "You go from making sure you take care of yourself as well as the patient. You've got a family to come home to. You've got to be careful, but it's rewarding. We haven't had as many cases as Charlotte or New York, but our ultimate goal is to make them better."
Lipford believes her studies at CVCC have helped her greatly during this unique and challenging time in her profession, and there are several traits that she learned while at Catawba Valley Community College that have helped more than others.
"I learned teamwork from the highly qualified professors there, especially when I had Robin (Ross) as a teacher," she said. "The closeness that you feel to work as a team, you have that in this profession. You have to have those good communication skills and emotional support. I had all of that there at CVCC."
As for advice to those who want to pursue a degree and career in respiratory therapy, Lipford wants potential students to know that there is a lot of patience required for the field, but if you have the right personal characteristics, you will succeed.
"I love my students. I help mentor them when they come in for clinicals," she said. "If students are looking into this profession, I really want them to know to work on things day by day. If you have a great work ethic and are compassionate, you can do this. A lot of them get discouraged, and I don't want them to feel that way."
# # #