Furniture Academy Students Honored by Carolina Vines
Carolina Vines in Newton recently hosted an appreciation event for its new partners, Catawba Valley Community College and the Catawba Valley Furniture Academy.
11/08/2017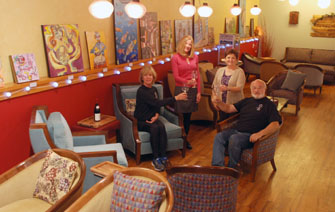 Hosts and owners of Carolina Vines, Twyla McDermott, Dennis Baucom, and Michael Waltuch showcased the craftsmanship of students who built new soft seating that was purchased for the establishment.
"We could have sourced our furniture from anywhere, but one goal of Carolina Vines is to help build community and positive partnerships that raise Catawba County and Newton to positions of pre-eminence," McDermott explained.
Dr. Garrett D. Hinshaw, president of CVCC, extended his appreciation to the owners of Carolina Vines and welcomed students, college trustees, elected officials and partners from local furniture manufacturers who helped create the Catawba Valley Furniture Academy.
"This is the way we do business at CVCC," said Dr. Hinshaw. "This is a perfect example of all the players bringing their talents to the table: our industry, our municipalities, our faculty and staff, and our governance."  
McDermott and her partners are also owners of Catawba Farms in Newton, where they have invested heavily in establishing a vineyard and operate the Peacock Inn bed and breakfast and special events venue. Those operations present additional opportunities to collaborate with the college.
"This is just the beginning of our strategic partnership with CVCC," McDermott added. "We are in discussions to build and extend programs with demonstration projects in our vineyard at Catawba Farms and with technology, hospitality and landscape architecture investments."
The academy operates a retail showroom at 973 Locust Street in Newton Monday through Thursday, 4 to 6 p.m. For more information contact Lori Price at 828-327-7000, ext. 4284, lprice@cvcc.edu.
# # #