GenCyber Summer Camp Launches Future Careers
Catawba Valley Community College recently conducted its annual two week GenCyber Summer Camp for public school teachers and high school students.
08/14/2017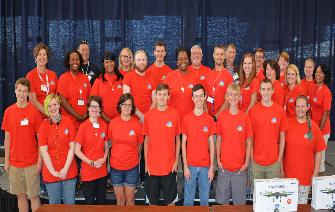 During week one, teachers gained technology and security skills to develop teaching modules for high school students enrolled in the camp the following week. Participating teachers earned 5.5 CEU technology credits and a stipend.
Students participated in a drone competition using Tynker software to program flight paths. The team with the most inventive flight path won Petrel drones. This activity was designed to demonstrate programming and abstraction by CVCC faculty Fred Richard along with three teacher participants Tiffany Brown, Sarah Walker and Josh Stone.
Students who participated in GenCyber include Zane Blake, John Bruckmann, Jamie, Bruckmann, Ben Elkins, Clair Gilbert, Chase Hedrick, Jordan Hoyle, Ella Johnson, Garrett Jones, Emily Lapana, Samantha Mroz, Andey Pegueros, Jake Speagle and Jonathan Wilkinson.
Public school teachers who participated include Tiffany Brown, Ralph Bumgarner, Tabitha Dollar, Stacee Eason, Jamie Fox, Talia Godfrey, Ed Hallyburton, Brenda Poole, Deanne Robbins, Joshua Stone, Jordan Stone, Mary Walker and Sarah Walker.
GenCyber Camp was part of CVCC's Summerscapes offerings. GenCyber is grant funded by the National Security Agency (NSA) and the National Science Foundation (NSF) for the purpose of inspiring the next generation of cyber security professionals.
CVCC faculty hosting the camp included Rick Barnes, Angie Speagle, Shaun Sides and Fred Richard. CVCC's technology department also includes Computer Programming and Development, Information Systems, Network Management, Systems Security, and Web Administration and Design.
For more information about future GenCyber Camps, contact Rick Barnes, 828-327-7000, ext. 4312, rbarnes@cvcc.edu.
# # #