Donation From Knights of Columbus
Knights of Columbus donation to ABE
Members of the Knights of Columbus Council 6451 at St. Aloysius Catholic Church in Hickory recently presented the CVCC Foundation, Inc., with a gift from the LAMB Foundation of North Carolina to support Catawba Valley Community College's Adult Basic Education program.
03/29/2019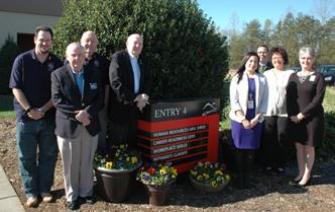 CVCC's ABE program serves adults who function below the high school level and offers reading, writing, math, oral and written communication, and technology skills. Instructors focus on career exploration and transitioning students into the workforce or additional educational programs.
Stephen Purcell, Jr., West Chairman of the LAMB Foundation of N.C., Inc., and member of St. Aloysius Catholic Church, presented the gift. Richard Painchaud, Warden for the Knights of Columbus Council 6451, and Jim Kearney, Council Webmaster, were also present.
The gift will provide supplies for the students to plant and grow vegetable and flower gardens. The project provide students an opportunity to learn about caring for the plants, watering and picking produce, teaching them teamwork and accountability.
The Knights of Columbus is the world's largest Catholic fraternal service organization. Originally serving as a mutual benefit society to working class and immigrant Catholics in the United States, it developed into a fraternal benefit society dedicated to providing charitable services.
The mission of the CVCC Foundation, Inc. is to foster and promote the growth, progress, and welfare of CVCC. For more information on giving, contact Teresa Biggs, executive director of the CVCC Foundation, Inc., 828-327-7000, ext. 4288, tbiggs@cvcc.edu.
# # #