October Furniture Academy Graduates Recognized
The Catawba Valley Furniture Academy, a public/private partnership, between Catawba Valley Community College and major western North Carolina furniture manufacturers, recently celebrated the success of several graduates.
10/17/2018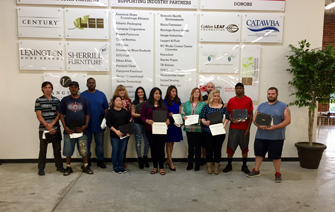 Students who completed the Sewing component were Tammy Cook, Hickory; Amelia Garcia, Hickory; Tammy Goforth, Hickory; Sarena Salinas, Newton; Tina Travis, Claremont; Ker Vang, Conover; Leslye Villegas, Claremont; and Kevin Williams, Hickory.
Arman Withers of Conover completed the Outside Upholstery component.
Students who completed the Inside Upholstery component include Kim Hall, Hickory; Jakeco Johnson, Hickory; Jason Oyola, Hickory; and Jonathan Stamey, Granite Falls.
Numerous skilled craftsmen/women in the furniture industry are retiring or close to retiring. The Catawba Valley Furniture Academy's unique training prepares a future workforce for immediate employment opportunities upon successful completion of the program. Training is conducted in the evenings and is taught by skilled artisans employed by local furniture manufacturers in seven different disciplines.
Founding partners who assisted with the curriculum design, instructional support of the program and donations of equipment, materials, and scholarships include Century Furniture, LEE Industries, Lexington Home Brands, Sherrill Furniture, and Vanguard Furniture.  
Additional supporting partners include American Home Furnishings Alliance, Atlantic Packaging, Autoquip Corporation, Bassett Furniture, CR Laine, Dimension Wood Products, DUO Fast/Southern Carlson, Ethan Allen, Fairfield Chair, Fairgrove Furniture, Geiger International, Gerber Technology, Harris Handling , Haworth Health Environments, HBF Textiles, HSM Solutions, Heico Fasteners, Heritage Home Group, Image Industries, Interstate Foam & Supply Co., Leggett & Platt, NC Works Career Center Catawba, Precedent, Snyder Paper, TB Arhaus, TCS Designs Inc., Thomasville-Drexel, United Sewing and Wesley Hall, Inc.
The next eight-week CVFA Furniture Fundamentals class begins January 14, 2019. For more information, contact Lori Price with CVCC's Business & Industry Services, 828-327-7000, ext. 4284, lprice@cvcc.edu or Cindy Fulbright, CVFA Project Manager, 828-327-7000, ext. 4778, lfulbright@cvcc,.edu.
# # #