Paramedic Student Awarded Stephanie Lynn Gabriel Memorial Scholarship by CVCC Foundation
06/26/2019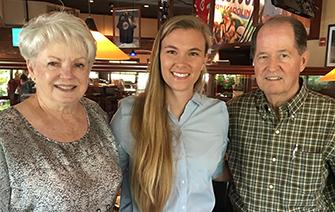 Morgan McDonald was recently awarded the Stephanie Lynn Gabriel Memorial Scholarship established through the CVCC Foundation, Inc.
McDonald is enrolled in Catawba Valley Community College's Emergency Medical Science (Paramedic) associate degree program. Her career plan is to become a physician assistant. She earned a bachelor's degree in cell/molecular biology at Appalachian State University. Initially planning to pursue a veterinary career, she changed tracks after working with a group of young veterinarians and learned the huge student loan debt they were repaying.
After taking an EMT basic course in the Stephanie Lynn Gabriel Center for Pre-Hospital Medicine, she found her passion for human healthcare. She believes becoming a paramedic is solid preparation for becoming a physician assistant.
The Stephanie Lynn Gabriel Memorial Scholarship was established as a memorial by her parents, Johnette and David Orr. A 1996 graduate of CVCC's Emergency Medical Science program, Stephanie performed her duties as a paramedic in an outstanding manner until her untimely death in 2010. The Orr's, executive director of the CVCC Foundation, Inc., (828) 327-7000, ext. 4288, tbiggs@cvcc.edu.
# # #