President's List for Spring 2019
Catawba Valley Community College recently announced the President's List of students for the spring 2019 semester. The following students who have a grade point average of 3.8 up to 4.0 were recognized:
06/19/2019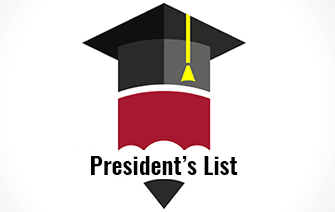 Alexander County
Alison Nichole Adams, Bryan Enrique Alba, Jacob Phillip Allen, Caeley Madison Arney, Erica Michelle Austin, Robyn Lynette Auton, Bethany Elaine Baker, Callie Elizabeth Bebber, Abbie Nicole Bowman, Breanna Denise Bowman, Courtney Bowman, Emily Madison Brown, Ashton Nichole Canipe, Julie Ann Carrigan, Camella Grace Church, Colby Thomas Cockrell, Colin Zachary Coffey, Natalie Jo Coffey, Chandler Michael Danner, Justin A. Deal, Noah Price Dietrich, Jason James Dunford, Michael Alexander Dyson, Michael Eugene Earp, Charles James Ester, Zachary Eric Ferguson, Brianna Kathryn Friday, Courtney Willow Gant, Dustin Cody Gourley, Deanna Faith Grogan, Aiden Michael Hager, Taylor Sage Harrington, Cole Gaither Harris, Timothy Craig Hartman, Katelyn Marie Hearn, Molly Quinn Hefner, Haley Beth Helton, Mikayla Ann Marie Hittle, Ethan Xavier Hoge, Dawn Morrison Hollar, Michael John Horrocks, Alison Icard, Heather Elaine Jackson, Cody Dean James, Shykayla Nicole James, Morgan Victoria Jenkins, Allison Renee Lasher, Hugo Leco, Amelia Ying Lee, Ann-Renae Paige Lewis, Ty Scott Lewis, Emma Faith Maltba, Hannah Grace Maltba, Hayleigh Adrianna Marshall, Kyla Lindley Miller, Michael D. Miller, Savannah Hope Minyard, Joshua Craig Montieth, Isabella Grace Moody, Peyton Marie Moore, Brenna Leigh Nance, Luke Patrick Noble, Gracie Faith Norton, Declan Eamorin O'Halloran, Yojuanshea Nyindia Deasia Ortiz, Jacob Paul Palmer, Mikayah Monique Parsons, Jordan Lance Pennell, Roberto Perez-Perez, Brittany Nicole Pitts, Courtney Lynn Powell, Aurora Lyncy Prichard, Elijah James Prince, Madison Akala Ratchford, Ashlyn Lenae Reese, Rex Andrew Robinette, Crowson Elijah Roosa, Tammie Ann Rose, Anthony Grey Sacona, Lauren Caroline Setzer, Cole David Sharpe, Kenna Grace Sipe, Jackson Gray Smith, Maia A. Southers, Brian Anthony Starnes, Mattie Lee Starnes, Kalia Denae Sweet, Crystal Tamayo Hernandez, Maria Tilghman, Hor Vang, Shaina Haven Walker, Lily Breanne Waters, Shawtae La-Dawn Watts, Konnon Lee Webb, Anita Carlena Weikle, Joshua Nathaniel West, Riley Quinn Whitener, Linsey Savannah Wike, Riley McClure Wilson, Naosang Alexander Xiong, Sonya Jariya Yang, Justin Yoder, and Marilyn Jade Yonce.
Burke County
Caleb Othneil Ammons, Colton Lee Arrowood, Brad Alexander Baker, Haley Alison Begay, Tyler Sylvanus Brown, Jose Roderick Campuzano, Morgan Emily Cline, Ashley Dawn Cook, Jessica Renee Denton, Allyson Marie Franklin, Andromeda Jade Fry, Taylor Janie Makay Giles, Tabitha LuAnna Hall, Christian Tyler Huffman, Anna Louise Isenhour, Kib Khang, Landon F. Kincaid, Alaina Rose Larraga, Jesse Vm Lee, Amanda Lynn Pace, Kelli C. Pressley, Tashia Breanna Robinette, Shelby Nicole Summerow, and Logan Ryan Williams.
Caldwell County
Sarah Ashley Albrecht, Shannon Lee Annas, Gregory Jackson Brown, Rachael Elizabeth Brown, Jamie Noel Bruckmann, Alyssa Wright Dula, Justin Blake Faulkner, Tyler Woodward Fredericks, Anisha Renea Gilbert, Michelle Lynn Huggins-Jump, Katelyn Brooke Kincaid, Lacey Blair Lovelace, Jack Alden Mackie, Destiny Ann Malone, Luke Issac Miller, Madison Nicole Moore, Kaitlyn Elizabeth Oder, Bethany R. Owens, Conley Iverson Paige, Michelle Lynn Pennell, Paula Jill Rice, Joanna Rachel Rogerson, Carrie Yvonne Sakatos, Quintin Thomas, Victoria Phillips Todd, Ethan Kiefer Watson, Julia Caroline Welker, Arica Danielle Williams and Ryan Steven Wilson.
Catawba County
Islam M. Abdelghafar, Sierra Marie Abee, David John Abernathy, Andrea Rae Absher, Christina Chiara Albores, Landon James Aldridge, Yocelyn Almanza-Figueroa, Elian Jose Almaraz Leon, Kevin Joan Alonso-Echegaray, Eduardo Alvarez-Calderon, Blake Devon Anderson, Joshua Logan Anderson, Mariana Angeles-Lemus, Kevin Jon Anthony, Christopher Samuel Aron, Aubrey Caleb Bach, Connor Reed Baer, Gabriel Ryan Baker, Pearson Bray Balatow, Jeremy Julian Baldobinos-Hernandez, Vanessa Isabel Ballabeni, Christy Shellree Banks, Mya Michelle Banks, Alexis Marie Barber, Darrious Adam Barger, Cameron Scott Barkley, Landon Dale Barnett, Emily Rae Barr, Jordan Taylor Beard, J. Christian Bentley, Xuanjia Bi, Megan Biddix, Mark Collin Blake, Brooke Lee Blanton, Alexis Brooke Blevins, Taylor JoBeth Gracie Blevins, Madison Brooke Bolch, Paris Leigh Boldon, Cynda Harkness Bollinger, Gina Mercedes Bonilla-Ortiz, Thomas Seth Bouchard, Ramzey MacIp Boulis, Erin Grace Bowden, Haylee Ann Bowman, Lucas Jordan Branch, Edward Von Brannock, Rebecca Ann Braswell, Erika Ballina Bravo, Joseph Robert Brefka, Kyle Dean Brown, Savannah Nicole Brown, Hannah Diane Browning, Sophia Grace Buchanan, Stephanie Bulick, Jakob Douglas Bullock, Megan Danielle Bumgarner, Samantha Kay Bumgarner, Luke Adam Burel, Carol Ann Burt, Bailey Michelle Burton, Cooper Scott Butts, Holly Elizabeth Cable, Hope Kathryn Cable, Jeremy David Calderon, Cinthya Cecilia Calderon-Hernandez, Dominic Patrick Cameron, Amber Nicole Campbell, Rossanna Mae Canella, Ethan James Canino, Connor Hampton Canipe, James Robert Canterbury, Lucas Anthony Carter, Cecilia Lizet Castillo, Marlet Gisel Castillo, Taylor Nicole Castle, Carol Ann Causby, Carmen Joyann Cerrito, Yasmin Longinos Cesareo, Michael Aaron Chan, Rhett Daulton Chapman, Zachary Joseph Chapman, Elayna Renee Chavis, Hope Marie Chellman, Joshua Brian Cisney, Adam Ross Clark, Lauren Ashley Clayborn, Justin Lee Clements, Kara Nicole Cline, Miranda Diane Cloer, Ethan Blake Cloninger, Matthew Preston Connor, Cheyenne Taylor Cook, Chloe Madison Cook, Stella Carmen Cooper, Brennan Curtis Cottrell, Yulisa Couto Medina, Donna M. Cox, Brittney Craig, Maelyn Cranford, Charles H. Craven, Elizabeth Hope Creed, Veronica Felicia Cruz, Hannah Caroline Cummings, Michael Marvin Cutlip, Jacob Tyler Dalton, Diana Damaschin, Kaitlyn Phan Dang, Warren Bolton Daniels, Brittney Jean Danley, Lucas Gabriel Dasilva, Bridgett Nicole Davis, Paul Reese Davis, Ally McKenna Day, Carlos Alberto De Los Santos, William Andrew DeHart, Cole Jackson Denney, Thomas James DeRienzis, Elizabeth Marie Garcia Dills, Michelle L. Dimarco, Alexis Hannah Dimetry, Brooklan Paige Drum, Thomas Charles Dufour, Abbigail Mary-Elaine Duncan, Joseph William Dunn, Emma Elizabeth Dutka, Michelle Nichole Ebeling, Anna Christine Eblen, Heather Lane Eckert, Savannah Grace Edmisten, Michael Ryan Edwards, Sarah Anne Ekholm, Makenzie Ardyn Eller, Jasmine Nicole Ellis, Katherine Lee Ellis, Kylie Elizabeth Elmore, Alexis Victoria Elrod, Nathan Brandon Ervin, Noah Scott Estes, Walter James Claude Estes, Jeffrey Alan Falace, Matthew McClellan Fallaw, Tracey Lynn Field, Zoe Michele Finch, Easton Finger, Madaline Josephine Finger, Makayla Rachel Finger, Samuel Curtis Fisher, Laura Sugey Flores-Acevedo, Jasmine Flores-Castaneda, Abigail Floriano, Jenna Price Fogle, William James Foster, Latazia Nikhol Fox, Bethany Lea Foy, Michelle Nicole Frady, Hannah Marie Freitag, Etta Sophia Frye, Taylor Diane Fulbright, Trace Walker Fulbright, Emma Isabel Fuller, Michael Dalton Furches, Allison Lane Furr, Ximena Garcia, Jorge Alejandro Garcia-Eslava, Peyton Samuel Garrett, Kyra Yan Gasper, Jonothan O'Brian Gatton, Madison Louise Gee, Alyssa Katelyn Gibson, Garrett Wade Gibson, Lacie Nichole Gibson, Kristian Steinbeck Godfrey, Rachel Claire Gordon, Alannah Grace Gorman, Joshua Lynn Gragg, Riley Davis Graudin, Amber Bentley Greene, Carter Scott Greene, Emily Dawn Greene, Nancy Smith Gregory, Sonny Allen Griffith, Brandy Michelle Grigg, Oliver Lane Grigg, Lily Catherine Grissom, Jazmin Guerrero-Garcia, Charles Justin Gunter, Lily Michelle Guzman, Colton Ray Hager, Caylan Noelle Hagood, Kayla Shea Hamill, Jared Daniel Hammer, Matthew William Hancock, Stephanie Marie Hansley, Maggie Grace Harman, David Michael Harris, Evan Timothy Harris, Joshua Ryan Harris, Julia Kathryn Harris, Taylor Elizabeth Harris, Zackary Tate Harris, Katherine Joy Hartzler, Jackson Lee Harwell, Michelle H. Harwell, Cecil Raymond Hash, Dawn Canipe Hawks, Lauren Michelle Hayes, Brooklyn Marie Haynes, Chase Andrew Hedrick, Julia Catherine Hedrick, Lana Rae Hefner, Baili Marie Heller, Peyton Ross Hemphill, Bailey Nicole Hendrix, Ally Morgan Henson, Pria Mai Pa Her, Erika Hernandez-Camacho, Andrea Michelle Hernandez-Garcia, Wesley Eric Hester, Lauren Olivia Higgins, Jackson Ashley Hightower, Sara Michelle Hilton, Anna Grace Hinshaw, Benjamin Wade Hinshaw, Madison Elizabeth Hise, Caleb Allen Holden, Brandy Lea Holland, Carla Hollar, Trevor Sean Holmberg, Noah Jacob Homan, Mikala Reese Honeycutt, Ashley Ann Marie Hood, Mistie Rhena Hoosier, Mya McKenzie Hopper, Marlee Marissa Horton, Christon N. Howes, Krisha Walters Hubbard, Nicholas Sidney Hudler, Christopher Tyler Hudson, Ivey Taylor Huffman, John Wyatt Huffman, Joseph Andrew Huffman, Zoe Elizabeth Huffman, Tiffani Jordan Huffstetler, Emilie Ann Hughes, Marsha Veil Hughes, William Justus Hullender, Lena Huynh, Zachary Amin Ijames, Olivia Catherine Inman, Robert Frank Irlbeck, Thaxton Harold Isenhour, Shamyya James, Ethan Andrew Jarrett, MacKenzie Brooke Jarrett, Rachel Elizabeth Jenkins, Jason Aaron Jimenez-Garcia, Emily Grace Johnson, Sarah Elizabeth Johnson, Nicholas Parker Johnston, Micheal Bruce Jonas, Aaliyha Rochelle Jones, Jacob Carl Jones, Adeline Renee Joplin, Jonathon Lewis Joplin, Benjamin James Joseph, Pamela G. Joy, Dondolyn McRee Joyner, Raven Aliah Kabar-Settlemyre, Brooks Daniel Kahn, Karin Pui Yang Kam, Obblivignes Kanchanadevi Venkataraman, Jeffrey D. Kanupp, Katelyn Faith Kappes, Tamara Ann Karriker, Kristen Melvin Keener, Alexis Jo Keller, Logan Brianne-Mae Keller, Austin Michael Peyron Kelley, Braden Nicholas Kelly, Jessica Marie Kelly, Rebekah Faith Yileke Kevitt, Samantha Kiefer, Courtney Faith Killian, Faith Lynn Killian, Madeline Nicole King, Madison L. King, Anna Grace Kirby, John Frank Kirk, Abbey Grace Klappert, Macie Elizabeth Korn, April Young Kubick, Sarah Elizabeth Kulcsar, Garrett Jameson Kurz, Emily Grace Kuykendall, Joshua Dale Lafone, Alexis Moriah Lail, Daisy Garcia Lail, Katrina Michele Lail, Natalie Elizabeth Lail, Zoey Katelin Lail, Zoe J. Lamb, By Lao, Darien Ashton Ledford, Evie Hlieeda Lee, Allison Rose LeQuire, Addison Lin, Alexis Nichole Lineberger, Hunter Logan Lloyd, Charles Jay Loftin, Michelle Patricia Lominac, Alicia Marie Long, Leah Jane Long, Janet Carbajal Lopez, Alondra Lopez-Trejo, Nancy Lor, Anna Carson Loudermelt, Alexander Prescott Lowe, Shannon Olivia Lowe, Dylan Brian Lutz, Ryan William Lutz, Hao Nghi Hong Luu, Kevin Robert Lyford, Tabatha Jean Lynch, Morgan Elyse Mace, Fernando Magana, Taven Brooke Major, Danielle Marie Malanowski, Makayla Malbon, Tia Elizabeth Marks, Reeba Joann Marshall, Cierra Nicole Martin, Grant Sydney Martin, Joel Lemus Martinez, Ramiro Martinez-Jaime, Alex Martinez-Reyes, Christopher Michael Maske, Abigail Ann Mathews, Zachary Dylan Mauney, Joe Mack McCorkle, Anna Maria McDonald, Beth Marie McFarland, Dalton James McGlamery, Brett James McKinley, Lucas Scott McNeill, Micah Wood McRea, Afton Blythe McRee, Amanda Kaitlyn McSwain, Andrew Jameson Meade, Lindsey Renae Meadows, Kalea Jeannette Mejia, Peter John Melnyk, Dagny Xiomara Mercado, Crystal Cornell Michael, Russell Michaels, Courtney Lynn Mikeal, Amber Dawn Miller, Angela Bader Miller, Isabel Renee Miller, Makayla Elaine Miller, Michael David Miller, Shyla Nicole Miller, Riley Elaine Mills, Brody Coy Milotte, Madison Ann Milotte, Tyra Gabriell Mitchell, Melissa Rae Mooney, Caroline Grace Moore, Deanna Marie Moose, Rebekah Blair Moose, Albert Moraru, Coby Allen Morgan, Leo Daniel Morris, Dylan Jacob Morrison, Maisy Catherine Mosteller, Adriana Alexia Mot, Ines Del Carmen Mueller, Justin Murphy, Logan Raquel Murphy, Kristin Marie Myer, Kimberly Mercedez Navarro, Emma Catherine Neely, Israel Negrete-Abreu, Payton Lynn Neville, Jonathan Grant Norman, Talitha Kay Null, Amanda Whitener O'Keefe, Alberto Olivas Vazquez, Anna Leigh Ollis, Makayla Viona Ollis, Lucas Allen Osborne, Samuel Albert Owensby, Jorge Luis Pacheco, Sophia Francesca Palmieri, Kaley Cheyenne Parker, Taylor Brooke Parker, Bhaumik S. Patel, Andrew Carlton Patrick, Nathanael Ross Patton, Christian Jonah Pearce, Timothy Quentin Peltack, David Thomas Penalver, Daisy Pena-Rivera, Dylan Ehren Perdue, Tessa Renee Phelps, Logan Paige Phillips, Shucara Lorene Phillips, Juan Manuel Picado Boniche, Michael Piedra-Resendiz, Olivia Isabel Pisel, Vitoria Brooke Poe, Antony Shaju Ponmany, Owen Blake Poole, Jesse Lee Pope, Maria Daniela Porras, Neftali DeJesus Porras, Lainie Grace Porter, Nicholas Allen Poteat, Ciera Symone Powers, Kyler Elliott Preece, Carrigan Grace Price, Giuliana Elisa Prina, Su Kyung Pyo, Mariana Ramos, Anthony Michael Ramsey, Dianne R. Reese, JonBrann Christian Reid, Danyelle Leigh Remkus, Horacio Reyes-Longinos, Mason Colt Reynolds, Garrett McKoy Rhodes, Julia Leanne Richard, Dylan Timothy Richards, Jarrett Blain Richards, Christopher Shane Richardson, Jacqueline Grace Rink, Erick Manuel Rivera-Vargas, Akia Jeannine Rose, Katelyn Elizabeth Ross, Lucas Daniel Rowe, Leslie Ruiz-Chavez, Jarod Christian Ruschill, Kaitlyn Alexis Sain, Yelizaveta Sakhonenko, Jayson Sanchez, Jaime Sanchez-Villa, David Anthony Schell, Daniel Isaac Schronce, Brittany Anne Scott, John Paolo Dillon Seabra, Alea Grace Seagle, Ashley Laura Seagle, Elizabeth Nicole Sebastian, Julian Cody Setzer, Rebecca Elizabeth Sharpe, Declan Cordell Shea, Braden Adger Shealy, Jeremy Spencer Shelton, Madison Olivia Shull, Ashley Nicole Sierzenga, Alea Brooke Sigmon, Brandon Tyler Sigmon, Christian Lance Sigmon, Gettys Rose Sigmon, Thomas Benjamin Silva, Andrew Lawrence Simmons, Savannah June Simmons, Julia Lynn Simpson, Owen Ray Sims, Caillou Wongyu Singchanh-Yang, Kara Nan Sipe, Harrison A. Sisk, Tamia Larius Sloan, Abigail Layne Smith, Amy Thompson Smith, Devyion Michael Smyre, Chelsey Cline Sorrels, Thipmany Kaitlynn Soukthavone, Rachel Isabella Spaulding, Jennifer Nicole Spleet, Madeline Lindsay Stafford, Evan Joseph Stahl, Megan Ashley Stansell, Nicholas Taylor Stansell, Caleb Brent Starnes, Carrie Elizabeth Starnes, Emily Kathryn Starnes, Kristen L. Starnes, Paige McKensie Starnes, Carlee Elizabeth Starns, Kate Elizabeth Starr, Evie Grace Sterling, Erica Nicole Stiles, Kylie Morgan Stillion, Craig Patrick Stinson, Laurie Denise Story, Garrett Hunter Stowe, Mason Riley Strother, Kathryn Isabella Stulpin, Journey Monae Surratt, Gina M. Swanner, Veronica Teopantzin, Evette Terhon-Hernandez, Mali Thao, Aveeda Souratsa Thavichith, Souriphanh Thiphaacksone, Lindsay H. Thompson, Lamar Quente Tillison, Cassie BreAnn Todd, Justin Ray Toney, Christopher E. Torres, Sue Elena Torres, Katie Caroline Townsend, Saul Trejo, Viviana Trejo, Krittiya Aidalina Trihemasava, Madilyn Marie Trimble, Sophia Marie Triplett, Mason Scott Truax, Saharah Dorothy Turner, Emily Uribe, Brooke Tyler Van Dam, Breeana Vang, China Hli Vang, Gaoxensia Vashti Vang, Kaylee Vang, Linda Vang, Soua Vang, Thida Vang, Elizabeth Ann Vanover, Joseph Vicente Verrette, Tabita Corina Vladia, Nina Claire Vogel, Yer Lee Vue, Brandon Shane Wade, Kristina Elizabeth Walker, Kayla Mariah Wallace, Chase Morgan Warchol, Macy Nichole Ward, Sierra Ann Ward, Sara Elise Watkins, Carah Elyssa Watson, Jonah Hiott Watson, Keith Stanley Watson, Kelly Watson, David Scott Weaver, Abigail Elizabeth Werkheiser, Trinity Faith Wesson, Lucy Arabelle Wheeler, April Michelle White, Christin Drae White, Crystany Nekiya White, Colleen Elizabeth Whitener, Ryanne Catherine Whitt, Justin Ray Wiley, Jordan Michelle Williams, Kaleb Lee Williams, Noah Bryant Williams, Zahria Rae Williams, Tori Lynn Williamson, Sydney Marie Wilson, Thatcher Lynn Wilson, Allyson Marie Winkler, Kendall Winters, Kelsey Brooke Wise, Kelsey Lane Wood, Rachel Lee Wood, Bailey Owen Wright, Trent Joseph Wuokko, Angelina Nkauj Hli Xiong, Ashley Gaochee Xiong, Der Xiong, Dou Xiong, Ka Xiong, Mai Ta Xiong, Shaleah Pa-Ly Xiong, Angeline Kaonouchi Yang, Britney Pa Yang, Evan Tshaijmhoo Yang, Joua Yang, Mouameng Steven Yang, Pofue Yang, Yeezong Joshua Yang, Adison Adair Yoder, Luke Isaiah Younce, Jolie Aveeya Young, Makayla Jean Yount, Gennaro John Zarro, Laura Zavala, and Kaitlyn Ann Zych.
Gaston County
Josie Lilith Allred, Savannah Brooke Cooper, Yashica Shanta Jett, Hunter Alison Rhyne, Emily Christine Sisk, and Laura Elizabeth Streett.
Iredell County
Joshua Mark Andrews, Connor Milland Belair, Anthony Hugarte Benavides, Beverly Elizabeth Bowes, Amanda Rochelle Bridgeman, Krystal Adams Capps, Emily Anne Chance, Robert Conner, Nicholas Ryan Coover, Courtney Brooke Dickson, Carly Anne Etzkorn, Dale Thomas Ferguson, Lauren Beth Foster, Cameron Furr, Sarah Olivia Halsey, Jon Andrew Her, Courtney Nicole Horne, Carol Anne Huntley, Anuj Joshi, Kaitlyn Nicole McLaurin, Mauricio Magin Navarro-Grajales, Jacob Powell, James Paul Strider, Joseph David Vanstory, Daniel Vitanza, and Rita L. Walker.
Lincoln County
Haven Reneea Bailey, Jarod Daniel Baxley, Jaycie MaeLeigh Beam, Eva Tillis Berisford, Jordan Bird, Taylor Marie Bollinger, Kayla Hefner Bumgarner, Summer Nicole Butler, Kyleigh Anna Caldwell, Holden Nathaniel Carpenter, Sydney Caroline Deese, Alexis Blake Dellinger, Jennifer Marie Dellinger, Heather Leatherman Deyton, Alex Lynn Do, Grayson Costner Dunkle, Harley Nicole Dyer, Aimee Elizabeth Ethridge, William Charles Frye, Hailey Lauren Helms, Katie Helms, Caleb Lee Jones, Jason Gregory Kennedy, Hunter Quay Leatherman, Madison Sylvia Lipe, Robert Max Marsh, Morgan Leighanne McCaskill, Morgan Tyler McDonald, Kayla Celine Minish, Katie Elizabeth Nolen, Hope Michaela Owens, Jessica Dellinger Painter, Dustin Andrew Phillips, Chloe Ann Punch, Kaylee Ramirez, Litzy Ramirez Cordero, Hannah May Rowe, Edward William Santelia, Morgan Angelique Schulz, Cynthia Sherrill, Andrew Peyton Smith, Alexandra Marie Soto, Ninfa Arieia Suarez, Chere Danielle Trump, Kayla Vang, Leanne Michelle Wise, and Sarah Elizabeth Wooten
Other students recognized on CVCC's spring 2019 President's List include Riley Neil Brock, Shaylyn Angel Davis, Taylor Anne Haraszkiewicz, and Tessa Caitlyn Murphree of Cleveland County; Noah Reid Eller of Davie County; Ripal Sarveshwar Patel and Noelle E. White-Halmi of Forsyth County; Cody James Strain of Macon County; Sydney Elizabeth Biddix and Tera Deanne Willis of McDowell County; Alexandra G. Lunder, Gopi Nandish Patel, and Joseph Luke Swearngan of Mecklenburg County; Marcy Elizabeth McLamb of Orange County; Kiera Rocqueal Weatherford of Richmond County; Sasha Nicole Gasteiger-Woschkolup, Tammy Howard Hendrix, Victoria Paige Laws, and Ryan Nichole Whittington of Rowan County; Ashley Noel Bechtel of Rutherford County; Abigail Elizabeth Gordon of Stokes County; Vincent Anthony Consolo of Wake County; Theodore Preston Boliek and Bailey Shea Kerley of Wilkes County; and Nicolette Lauren Anthony of Yadkin County.
# # #