Radiography Program Director Supports Humanitarian Effort
Radiography Program Director Robin Cornett recently returned from a volunteer mission trip to Accra, Ghana, with the non-profit organization RAD-AID International. This organization helps bring and improve medical imaging to developing and underserved countries around the world.
10/20/2017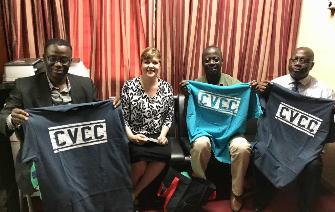 An American Society of Radiologic Technologist Fellow Scholarship funded Cornett's experience. Her stay lasted two weeks, which gave her the opportunity to visit the University of Ghana and the University of Cape Coast to evaluate its radiography programs, curriculum and needs. She was also able to visit the Korle Bu Teaching Hospital in Accra and Cape Coast Teaching Hospital.
In preparation for her trip, Cornett secured several material donations from area medical facilities. She secured donations from clinical sites such as CHS-Morganton campus and Emerge Ortho-Mountain View. CHS-Morganton donated a lead apron to the pediatric room at Korle Bu Hospital and Ortho-Mountain View donated medical tape. Textbooks were donated to two programs and CVCC t-shirts were presented to the faculty at the University of Ghana.
 
During her stay, Cornett spoke to the radiography students at both universities and delivered a seminar to the faculty and students at the University of Ghana entitled "Challenges in Radiography Education in the United States."
One of the major needs she discovered with the radiography programs in Ghana was the lack of educational resources. Students are enrolled in a very rigorous curriculum but do not have textbooks to purchase or a library to use. Cornett will be working with another RAD-AID volunteer to help build a resource library for the radiography students at both the University of Ghana and Cape Coast Teaching Hospital in the near future.
# # #