Scholarship in Memory of CVCC Faculty Presented to NCHS Grad Cole Yoder
07/09/2019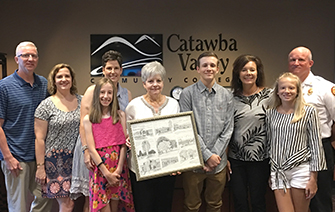 Catawba Valley Community College student Cole Yoder was recently presented the David N. Smith Scholarship established through the CVCC Foundation, Inc.
Yoder is a Catawba County native and graduated from Newton-Conover High School earlier this spring. He will enroll in CVCC's college transfer program this fall where he will be a legacy student. His father, Kevin Yoder, attended CVCC earning an associate degree in pre-liberal arts. Yoder will use the $600 scholarship to pursue his interests in exercise science and government. 
As an athlete at Newton-Conover High, Yoder wrestled and made all conference each year he played on the varsity team. He also played soccer two years and maintained a 3.25 GPA throughout his high school career.  
During an internship he is participating in this summer, he is learning about business, management, work flow, vendor selection and diversity. He hopes to return to the Catawba County area so he can give back to the community in which he has lived his entire life.
Professor David N. Smith, a former member of CVCC's Business Division faculty, established the David N. Smith Scholarship Endowment during his 34th year of service with CVCC. Throughout his teaching career that spanned 38 years, Smith was dedicated professionally and personally to helping each of his students obtain their goal. Scholarship founders expressed preference for the scholarship to graduating seniors or graduates of Newton-Conover High School pursuing a program of study in the Information Systems curriculum. However, applicants to any program within CVCC's School of Business, Industry, and Technology are considered. Funds for the scholarship are made possible from the income received from the endowment. Additional funds contributed to the endowment may permit multiple awards in the future.
The mission of the CVCC Foundation, Inc. is to foster and promote the growth, progress, and welfare of CVCC. For more information on establishing a scholarship or making a gift, contact Teresa Biggs, executive director of the CVCC Foundation, Inc., (828) 327-7000, ext. 4288, tbiggs@cvcc.edu.
# # #