Skills for Skills Holiday Craft Show December 9
CVCC HOLDS "SKILLS FOR SKILLS"  HOLIDAY CRAFTS SHOW December 9
12/01/2017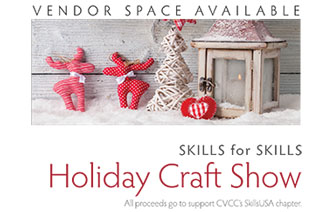 Catawba Valley Community College will hold a "Skills For Skills Arts & Crafts" show to support its SkillsUSA chapter on Sat., December 9, from 9 a.m. to 3 p.m in the college's Tarlton Complex on the main campus on Hwy. 70 in Hickory.
Proceeds will help fund the chapter's competition expenses. The chapter has earned numerous top ten placements at both the state and national level during the past 11 years. 
This event will include hand-made items, original photography/artwork and direct sales vendors.
About SkillsUSA
CVCC SkillsUSA is partnership of students, teachers and industry working together to ensure America has a skilled workforce. SkillsUSA's mission is to empower its members to become world-class workers, leaders and responsible American citizens.
At the June, 2017 SkillsUSA competition in Kentucky CVCC students won 4 National Championships. They also had a 3 National Runners-up and 2 National 3rd place finishers. Our SkillsUSA chapter is recognized as one of the best programs in the country. It is a campus-wide success with our college winning 19 national medals in the past five years.
For more information, contact Becky Rees
828.327.7000 x4296 or brees@cvcc.edu
CVCC's SkillsUSA chapter is supported by the CVCC Foundation, Inc.
# # #