CVCC Sweeps State SkillsUSA Competition
Catawba Valley Community College's SkillsUSA chapter made history at this year's State Leadership and Skills Conference. CVCC won the most medals any school has ever won in the state of North Carolina.
04/25/2019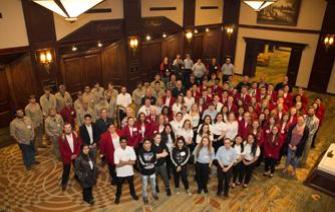 But there's more! CVCC won its third Chapter of Excellence Award, the first time any chapter in the nation has won it three times.
CVCC's chapter bested its own record set last year by winning 23 first place gold medals at the North Carolina SkillsUSA Competition held in Greensboro. The team earned 10 silver (second place) medals and seven bronze (third place) medals.
For the sixth consecutive year, CVCC earned the Outstanding Chapter Award.
SkillsUSA empowers its members to become world-class workers, leaders and responsible American citizens. SkillsUSA improves the quality of our nation's future skilled workforce through the development of framework skills that include personal, workplace and technical skills grounded in academics.
First-place winners will compete in the SkillsUSA National Conference Championships in Louisville in June. They include:
Additive Manufacturing—Dylan Murphy & Makayla Yount; Advisor Andy Owens
American Spirit—Megan Keim, Sophia Palmieri and Kenzie Wilson; Advisors Tammy & Gary Muller
Automotive Service Technology—Lewis Whaley; Advisor James Roane
CNC Milling Specialist—Erick Rivera-Vargas; Advisor Steven Rhoads
CNC Technician—Dale Ferguson; Advisor Steven Rhoads
Community Service—Gemma Cullen, Samantha Kiefer and Valerie Stiltner; Advisor Tammy Muller
Crime Scene Investigation—Savannah Brown, Shelby Sipe and Summer Walsh; Advisor Sherry Herman
Digital Cinema Production—Kody Cooke and Melissa Mooney; Advisor Wesley Minish
Engineering Technology & Design—Wa Leng Chang, David Penalvera and Sidney Richardson; Advisor Jim Thomas
Entrepreneurship—Cedric Clyburn, Karlina Ho, Nicholas Rudisill and Chanler Watts; Advisors Jeff Neuville and Gary Muller
Mobile Robotics—Cameron Church and Hussein Khanbhai; Advisor Andy Owens
Outstanding Chapter—Jenna Frye, Ansley Gorski, Kelsey Wise; Advisor Tammy Muller
Photography—Cheyenne Chumley; Advisor Joe Young
Pin Design—Dustin Gourley Advisor Wesley Minish
Prepared Speech—Michael Stephens; Advisor Kim Ray
Quiz Bowl—Holly Cable, Cole Denney, Cecil Hash, Jackson Hightower and Andrew Igdal; Advisor Robin Ross
Screen Printing—Cynthia Lainez; Advisor Jennifer Cobb
T-Shirt Design—Brandy Grigg; Advisor Wesley Minish
Crime Scene Investigation—Laysha Galan Duran, Megan Lester and Christopher Torres; Advisor Seth Bailey
Customer Service—Maira Uriostegui-Resendiz; Advisor Thomas Peeler
Entrepreneurship—Hope Cable, Vitoria Poe, Dalton Powell and Thipmany Soukthavone; Advisors Jeff Neuville & Gary Muller
T-Shirt Design—Abigail (Toby) Smith; Advisor Natasha Stiles
The chapter brought home nine silver second-place medals. Winners were:
Advertising Design—Brenna Nance; Advisor Jennifer Cobb
CNC Technician—Saied Carson; Advisor Steven Rhoads
CNC Turning Specialist—Christopher Deal; Advisor Steven Rhoads
Extemporaneous Speaking—Jacquelyn Grimes; Advisor Ariel Hamilton
Photography—McKalia Sain; Advisor Joe Young
Pin Design—April Shuford; Advisor Wesley Minish
Prepared Speech—Noah Williams; Advisor Jeffrey Penley
Related Technical Math—Tessa Phelps; Advisor Michael Boone
T-Shirt Design—Sena Lor; Advisor Wesley Minish
Welding Fabrication—Austin Mathews, Elijah Prince and Samuel Taraban; Advisor David Filip
The chapter brought home 12 bronze third-place medals. Those winners were:
Extemporaneous Speaking—Alek Zirkle; Advisor Ariel Hamilton
Job Interview—Karleigh Morrison; Advisor Ariel Hamilton
Photography—Kristy Williams; Advisor Joe Young
Pin Design—Ronda Stafford; Advisor Wesley Minish
Prepared Speech—Ciera Powers; Advisor Jeffrey Penley
Welding Sculpture—Daniel Barnes; Advisor Kevin Beam
Welding Fabrication—Anthony Bentley, Charles Ester and Isaac Icard; Advisor David Filip
CVCC's SkillsUSA Program is funded through the generosity of the CVCC Foundation, Inc. For more information about CVCC's SkillsUSA team, contact Gary Muller at 828-327-7000, ext. 4672, or email gmuller@cvcc.edu.
# # #