SkillsUSA Officers Meet With Rep. Fox
Catawba Valley Community College SkillsUSA chapter members met recently with U.S. Rep. Virginia Foxx to promote the importance of SkillsUSA and support the growth of Career and Technical Education in middle and high school programs.
11/30/2018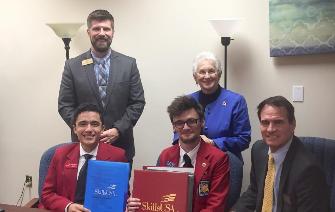 SkillsUSA student representatives emphasized SkillsUSA soft skills education programs being utilized at CVCC and area high schools through a joint program between the college and K-64.
Student representatives thanked Rep. Foxx for her support of Perkins Career and Technical Education grants. The Perkins program provides funding for high school and college students to learn technical skills so they may enter the workforce to begin successful careers.
# # #