South Campus Entrance Closure October 30
College officials announced a traffic advisory for drivers on its main campus on US Hwy. 70 SE in Hickory.
10/13/2017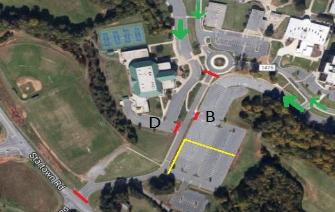 Beginning October 30, the Startown Road entrance will be closed while construction takes place to connect Catawba Valley Boulevard to the south campus entrance. The entrance will be closed until further notice from the contractor in charge of the project.
All campus traffic should use the U.S. Hwy. 70 entrances to campus.
Entrances affected are marked in red and will be blocked by a barricade. Access and traffic flow will remain the same for the areas marked with green arrows. The Tarlton Complex (parking lot D) will be accessed via the West Wing parking lot. Parking across from the Tarlton Complex (parking lot B) will be available via the East Wing drive.  
The round-a-bout will remain open throughout construction to allow for traffic flow around the south side of campus. The fenced area marked in yellow will remain closed until construction has been completed.
# # #