Spring 2017 High Honors ADDENDUM
A number of Catawba Valley Community College students who achieved High Honors this spring were inadvertently omitted in prior recognition. The following students achieved a grade point average of 3.8 up to 4.0:
07/11/2017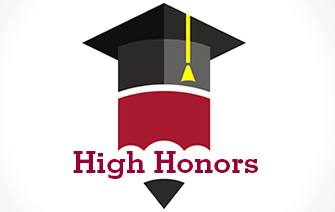 Alexander County
Emma Alcanzie Albertino, Timothy D. Chewning, Angela Hatton Childers, Madison Paige Church, Katelyn Lee Ann Cockerham, Alexis Renee Coffey, Taylor Gray Daughtry, Dwight Melvin Fitzgerald, Sydney Dawn Fox, Samuel Madison-Whitwo Frye, Abigail Louise Grant, Kailyn Delaney Harris, Jodie Lynn Hussain, Rebecca Leann Mayberry, Carl Nathaniel Moretz, Jessica Hope Robles, Erin Lindsey Russell, Mark Richard Stafford, Barry Lee Thomas, Destiny Samantha Weeks, Vanessa Brooke White, Riley McClure Wilson, Kasey Michelle Wood, Sonya Jariya Yang, and Nicholas Alexander Zema.
Burke County
Lauren Ashley Byrd, Kenyada Tacha Edwards, Janice Flores-Gil, Melissa Anne Matzko, Xu Thao, Kellie Pruitt Turnmire, and Gary Dean Watson.
Caldwell County
Lisset Aguilar, David Ray Childers, Natalie Jo Coffey, Evelyn Hamby Collier, Lori Denise Houck, Katlyne Marie Ryan, and Haley Ruth Teague.
Catawba County
Blake Devon Anderson, Devona Lynn Ayers, Daniel Ray Ballard, Alexis Marie Barber, Nicole Ashton Bivens, Rachel A. Blake, Brianna Ruth Bliss, Ashley Danielle Brown, Rebecca Ann Browning, Brooke Burns Bryant, Callan Michelle Burleson, Macy Lorene Burris, Cathy Herron Byrd, Christopher Wayne Caldwell, Karely Callejas-Chavez, Clarissa Joleen Cappadona, Barbara Caraballo, Brandon Chang, Jose Cisneros, Brandon Scott Cline, Alaysia Torrice Collins, Caroline Elizabeth Collins, Nathaniel Josh Z. Consing, Chloe Madison Cook, Mikael Chandler Cooke, Anna Maria Curry, Hallie Marice Daniel, Andrea LeAnn Deal, Megan Reese Demeny, Parker Stephen Dickinson, Aleshia Genay Dula, Ivana Jenaya Dula, Claire Christine Earp, Preston Ward Easley, Michelle Nichole Ebeling, Maura Delenn Estes, Kaitlyn Alexandra Ewing, Kimberly Sakara Fleming, Kandon Paige Ford, Taylor Janie Makay Giles, Patricia Joanne Gotshall, Alisha Martin Grant, Katelyn Jean Greer, Amanda Gale Hager, Jackson Seitz Hambrick, Patrick Scott Herman, Jason M. Herring, Samantha Rose Hoke, Elizabeth Hornick, Jeffrey Allen Hoyle, Maggie Lynn Huffman, Tiffany Dawn Huffman, Alyssa Isenhour, Caira Ayana James, Dylan Matthew Johnston, Sarah E. Kanipe, Jeffrey D. Kanupp, Halle Renee Karohl, Lisa Hogue Kearse, Anna Nicole Keener, Abigail Nicole Killian, Linda Wilson Kuykendall, Megan Elizabeth Kuykendall, Xee Alicia Lee, Heather Nicole Levine, McKinna Reigh Lewis, Phillip Russel Lo, Kristine M. K. Lor, Chau Bao Ly, Samuel Kelly Lynn, Taylor Michelle Lynn, Thomas Ray Maltba, Sara Leeann Marada, Maria Greene Marreiros, Olivia Margaret Martin, Brian Martin Martinez, Dalton Marcus McCall, Matthew Casey McCrary, Erin Lea McGibbon, Valerie Ann McKenna, Savannah Lee McKinney, Connie Jean McLaughlin, Conrado Melecio, Cayla Catherine-Lynette Miller, Madison Ann Milotte, Charles Anthony Moody, Timothy James Moore, Amanda Linn Morrison, Trenten MacKenzie Moseley, Monica M. Nicholas, Brianna Jean Odham, Savannah Caroline Page, Jennifer A. Parker, Verenise Abigail Pastrano, Ciara Nicole Pennell, Lauren Elizabeth Pennell, Shannon Travis Peterson, Tessa Renee Phelps, Amanda Marie Pippin, Logan Zachary Pope, Hannah Elizabeth Porter, Carrigan G. Price, Sophia Rayne Pruett, Melia Gloria Quinteros, Cody Elijah Rambaran, Ramona Elaine Ramseur, Katie Elizabeth Reep, Elisa Lynette Reid, Sydney Alexis Revell, Megan Renee Rhyne, Riley Savannah Robinson, Carlos Alberto Sandoval, Carol Jean Schaefer, Sheridan Mareen See, Andrea Nicolia Sherrill, Audrey Owen Sigmon, Jessica Erin Singleton, Shelby Cheyenne Sipe, Brandon D. Stamey, Trevor Lee Starnes, Madison Rose Stracener, Caitlin Paige Styles, Kalie Brooke Swartley, Hope Nicole Teague, Chloe Elisabeth Townsend, Teashia Leatrice Townsend, Joshua Thomas Trimble, Molly Elizabeth Vanhoy, Allison Riley Venable, Roger Lee Vest, Mason E. Wagner, Summer Cheyanne Walsh, David Allen Ward, Carah Elyssa Watson, Haley Joanne Watson, Regan Bryana Watters, Annecy White, Justin Ray Wiley, Dalton Eugene Williams, Nason Zachary Wilt, George Victor Worth, Yang Pao Xiong, Brittanie Vanessa Yang, Lebill Yang, Nou Yang, and Alexander Carl Yount.

Iredell County
Genet Christine Burks, Heaven Clark, Lauren Elizabeth Cook, and Jada MacKenzie Travis.
Lincoln County
Michelle Therese Bernard, Tanner Allen Bost, Jacqueline D. Cody, Jesus Eduardo Garcia, Thomas Chance Goodman, Brittany Ledford Hull, Brice Adler Maggart, Sarah Grace Martin, Leonard James Puryear, William Spencer Rogers and Robert Keith Stamey.
Others from outside the Catawba Valley include Jarred Pike of Forsyth County; Logan of Farnsworth and Cassidy Olivia Hunt of Gaston; and Jared Alan Vice of Wilkes County.  
# # #