Spring 2017 High Honors
Catawba Valley Community College recently announced the High Honors List of students for the spring 2017 semester. The following full-time students who have a grade point average of 3.8 up to 4.0 were recognized:
06/21/2017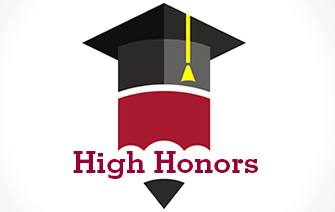 Alexander County
Kendrick Eugene Adams, Laureen C. Anderson, Christopher Todd Bare, Kelsey Taylor Barnes, Jacob Dalton Bouchard, Brian Dean Burgess, Jody Christopher Chavis, Brent Matthew Clack, Ariah Monea Clark, Cedric Guy Clyburn, Samantha Itzel Cobos-Rodriguez, Laura Spencer Duggan, Carrie R. Farmer, Tammie Ann Fie, Brandi Elizabeth Foster, Darren Malachi Fox, Katelyn Lee Gibson, Jacquelyn Hannah Grimes, Mara Elizabeth Hoyle, Luke Edward Huffman, Shawna Stuart Huffman, Alison Icard, Heather Elaine Jackson, Dustin Melburn Jones, April Ann Louise Kowalski, Myriam Patricia Leco, Jesica Ann Lemley, Hannah Olivia Maher, Felicia Casse Martin, Chesney Grace Millsaps, Isabella Grace Moody, Corinne Evelyn Monroe Mudd, Brenna Leigh Nance, Leah Shae Pennell, Andrew James Robison, Daniel Paul Russell, Abigail Kristina Shook, Emily Caroline Simmons, Bryce A. Sprinkle, Jessie Nicole Tallman, Meilin Alexis Tan, Abigail Trejo Medellin, Leena Vue, Lewis Wayne Whaley, Jonah Alan White, Morgan Alise Wicker, Kaitlen Grace Wike, Joshua Charles Wilson, and Sarah Rachel Yoder.

Burke County
Laura Paige Abernathy, Barbara Handy Blackwell, Corey Dale Blevins, Marcus Glenn Chester, Timothy Cook, Elizabeth Wilma Fulgham, Tabitha Luanna Hall, Amy Hang, Sierra Newton Hedrick, Andrew Chase Heien, Ronald Lee Hipps, Andrew Hunter Holcombe, Caleb Allen Holden, Elizabeth Lynn Johnson, Jordan Matthew Lockee, Travis J. Long, Myra Jan Lovett, Daniel Austin Muller, Megan Denise Ninemire, Adriana Gabriella Pena, Benjamin Calvin Phillips, Larry Poole, John Franklin Robinson, Veronica Alexis Savinsky, Rounny Sayarath, Tabatha Nipper Smith, Shelby Nicole Summerow, Kaesie Ellexzandria Vang, Jennifer Elizabeth White, and Der Yang.

Caldwell County
William Tyler Adkins, Monique Miller Becker, McKayla Brooke Brown, Rachael Elizabeth Brown, Lindsay Brooke Church, Cynthia Guadalupe Garcia, Tamara Harbison, Lacey Dawn Hopkins, April M. Kemp-Moya, Melinda Martinez, William Matthew McNeill, Nathan Eli Miller, Michelle Lynn Pennell, Summer Denise Ritchie, Devin Scott Sigmon, Ronda Darlene Stafford, Victoria Danielle Stikeleather, and Ryan Steven Wilson.
 

Catawba County
Kiersten Cherelle Abernathy, Sebastian Acosta, Rida Ahmed, Joshua Dean Aiken, Kelly Allen, Zachary Mitchell Alley, Morgan Hailey Anderson, Tyler Justin Archer, Nabilah Armstrong, Carylle Jane Tugdang Arroyo, Nadia Abdulkader Assadallah, Charlsie Jessica Ayers, Aubrey Caleb Bach, Gregory Harlen Bailes, Willie Thomas Baker, Adrian Gunner Baldwin, Jessica Ann Barbee, Emma Monique Barger, Andrew Bryson Barringer, Robert David Beal, Miranda Leigh Beam, Rebecca Ellis Beaulieu, Trinity Juliet Black, Regina Marie Bodden, Mark Andre Bodnar, Justin Lambert Bolter, Kasey Rebekah Bowman, Ekua Afiryie Brew, Kaitlyn Ruth Bridges, Paul Andrei Brincovan, Karson Leigh Brittain, Mary Elizabeth Brittain, Leah Ruth Brooks, Chelsea Marie Brown, Tiffany Miranda Brown, Aaron Bryant, Alyssa Jordan Buchanan, Kimberly Lynn Burress, Matthew Alexander Byrd, Nathan Alexander Byrd, Holly Elizabeth Cable, Elizabeth Margaret Campbell, Danielle Luna Canaday, Lizbeth Cantera, Brooke Lauren Carnevale, Christina Peck Carpenter, Leah Danielle Carroll, Megan Elizabeth Carter, Cecilia Lizet Castillo, Courtney Elizabeth Cater, Destiny Marie Chafin, Alexis Nicole Chambers, Linda Chang, See Chang, Jordan Kyle Clay, Joseph Allen Claytor, Chassidy Michelle Cline, Heather Lynne Coffman, Aurora De Collins, Eden R. Colvard, Kalie Renee Cook, Victoria Marie Cook, Holly Dawn Cooke, Leslie Allison Crane, James Lance Crowe, Austin Everette Crump, Ashley Nichole Cruz, Ryleigh Morgan Dague, Andrew Reece Davis, Heaven Destiny Davis, Matthew Skyler Deleary, Cole Jackson Denney, Levi William Dennis, Timothy Christopher Dieter, Meredith Paige Dillard, David Jarrett Dobbins, Eric Theodore Dowd, Chase MacKenzie Dubois, Jenna Dare Duncan, MacKenzie Nicole Duraski, Amy Leigh Edwards, Tekisha Lynn Edwards, Benjamin Peter Ellis, Bridgette Marie Ellis, Sean Patrick Enck, Austin Lee Estep, Stephanie Marie Estevez, Tiffany Nichole Exline, Jeremy Daniel Farris, Kelsey Yvonne Fauntleroy, Sarai Justine Fields, Kamilla Teresa Finetti-Barnuevo, Jonathan Wilson Flowers, Cynthia Duncan Foster, Charity Huskins Fox, Zeb Noah Fox, Bethany Lea Foy, Ann M. Frye, Christopher Duyrant Frye, Kayla Marie Fulbright, Taylor Diane Fulbright, Jamie Benjamin Fullen, Jacob Michael Fuller, Tiffany Grace Gabrel, Isaiah Seth Gabriel, Greylyn Kelly Gaillard, Mirozlava Garza Gamez, Brittany Gomez-Herrejon, Jason Dale Goodson, Katherine Grace Gould, Sarah Anne Gould, Correy Alycia Green, Joseph Henry Griffith, Robert Dwayne Gurley, Lauren Louise Guthmann, Marlen Nineth Gutierrez- Portillo, Asia Dishea Hairston, Charles Jeffrey Hall, Ethan Thomas Hall, Emily Lauran Hamby, Hunter Clark Hamer, Jared Daniel Hammer, Michael Anthony Hanson, Kristian Leeann Harold, Bailey Rose Hartman, Rhonda Sue Hartzler, Cecil Raymond Hash, Chloe Bevin Hay, Alexander Thomas Hayes, Jackson Frederick Hayes, Dara Heath, Julia Catherine Hedrick, Debra Lynn Hefner, Nathaniel Page Henderson, Kaylana Louise Henry, Alaina Nicole Herman, Katie Araceli Herrera-Luna, Nicholas James Hewitt, Austin Joseph Hicks, Allison Lorena Hildebran, Alexandra Payne Hillen, Magdalene Renee Hinson, Karlina Callee Ho, Alexander Clifton Hodge, Ashley Nicole Hodges, Kelly Brittain Holmes, Joshua Alan Holsclaw, Bobby Gene Hopson, Whitney Brianne Horton, Gracen Leigh Hoyle, Kayleigh Brooke Hudson, Mallory Suzanne Huffman, Nicholas Wayne Hughes, Emily Brooks Hurley, Bianka Hurt, Andrew Igdal, Edward Clay Jarnac, Rachel Elizabeth Jenkins, Matthew Tyler Jennings, Jalen Wayne Johnson, Courtney Ivey Jones, Crystal Jeanine Jones, Lara Elisabeth Jones, Thais Hayde Viana Jovaneli, Pamela G. Joy, Tucker Reed Justice, Cameron Tyler Kennedy, David Glenn Kerekes, Asia Janee Key, Kelsey Ryann Krumanocker, Justin Elijah Lail, Justin Lee Lail, Shelby Elizabeth Lail, Sierra McKenzie Lail, Han Gia Lam, MacKenzie Ann Laney, Bradley Phillip Langan, Tyler Adam Langford, Laura Andrea Lara Amaya, Paigeland Marie Leatherman Gragg, Emily R. Lechtner, Stephanie Michelle Ledbetter, Chad Lee Ledford, Brandon Lee, Jae In Lee, Julie Lee, Lance Kyle Lee, Keith Aaron Leiting, Emma Grace Lentz, Addison Lewis, Lauren Blake Lewis, Katrina Elizabeth Linder, Macully Clint Lineberger, Shamaica Antionette Lineberger, Aaron Lewis Little, Blair Victoria Little, Nkaujzong Lo, Channing Olivia Loftin, Wendy Day Logan, Maria McKenzie Lopez, Sena Lor, Steve Yeng Lor, Youa Lor, Heather Nicole Lovelace, William Harold Lowman, Ariana Marie Lurie, Dalton Price Lutz, Zoe Lutz, Nghi Hong Hao Luu, Madison Elaine Mace, Patrick Cirilo Marquez, Robert J. Marshall, Sarah Elizabeth Martin, Taylor Marie Martin, Tracie Cook Martin, Joel Lemus Martinez, Sonja Benita Mason, Johnathan Aeryk Mathis, Matthew Coan McAlpine, Trent William McKee, Jimmie Wayne McKinney, Melissa Harris McLain, Amanda Kaitlyn McSwain, Janeth Guadalupe Medellin-Tapia, Desiree Danielle Meisenheimer, Mary Adair Melton, Miriam Aylin Mendoza-Perez, Joanna Ruth Mickel, Grace Elizabeth Miller, Maleigha Amber Miller, Shyla Nicole Miller, Brennan Taylor Minton, McKenna Morgan Mitchell, Gabriela Mladin, Melissa Rae Mooney, Bryan Alejandro Morales-Gonzalez, Christina Elise Morford, Hannah Rachel Morrow, Sarah Ashley Moses, Amy Moua, Cody Elisha Mullins, Taylor Nicole Murphy, Tyler James Myers, Madeline Ruth Nagele, Michael Richard Navlyt, Madigan Leigh Nellenbach, Kathy Thuy Nguyen, Leanne Hong Nguyen, Steven John Normand, Luis Enrique Obregon-Arroyare, Grace Oyinbrakemi Opufou-Wellman, Kent Ortiz, Thomas Kevin Owens, Mayra Alejandra Parra-Sains, Kimberly Ann Patterson, Erica Nichole Payne, Jolene Kimberly Pearson, Melody Joy Penalver, Hannah Lindsey Pennell, Kristina Anastasia Perjar, Nicole Deal Peterson, Fernanda Valeria Pichardo-Colin, Anjella Joy Encenarez Poblete, Anna Lynne Poovey, Charles Donnell Poovey, Lucas Mathew Popan, Nathan James Popan, Matthew McGuire Powers, Farryn Elizabeth Presnell, Myhuyen Sandy Quach, Laquanda Ford Redmon, Richard Justin Reeves, Sabrina Monique Rhodes, Montavia Bonita Mary Richardson, Sidney Marie Richardson, Tina Ture Riddick, Wendy Eve Rinck, Angie D. Rogers, Herbert Leonel Roman, Paigelyn A'mon Romero, Michael Franklin Roper, Elizabeth Juliana Ross, Sheryl A. Ross, William Christopher Royster, Anna Marie Rubino, Noah Andrew Rudisill, Nai Khay Saetern, Tapanga Salai, Tamara Salmen, Amber N. Sanchez, Bianca Vanessa Santos, Paige Elizabeth Sapp, Anna Clark Schiltz, Tyler Keith Scronce, Brandon See, Walter Sepulveda, Abby Grace Settlemyre, Seth Adam Setzer, Katelyn Marie Shadowens, Andrew James Shaw, Briggs Jackson Shealy, Derrick Smyth Shealy, Mikaela Christine Simmons, Julia Lynn Simpson, Elayne Mary Sinclair, Morgan Ashley Smith, Nathan John Smith, Dylan Marie Snarr, John Austin Soderberg, Morgan Ashley Spiker, Kayleigh Ann Spivey, Matthew Lawrence Spivey, Jennifer Nicole Spleet, Karla J. Starnes, Miranda Leigh Starnes, Owen Maguire Stegall, Brandy Putnam Stewart, Ethan Paul Stewart, Kaitlyn Margaret Stewart, Precious Jewell Stewart, Etta R. Stiles, Kylie Morgan Stillion, Travis Lamar Stutts, Crystal Blanchard Summers, Virginia Logan Tanner, Tara Leighanne Thomas, Jalil Khateeb Thompson, Emma Elise Throneburg, Jacob Logan Toney, Eric Tran, Savannah Faith Travis, Jeffrey Robert Tuckey, Sierra Marie Tuttle, Joe William Ugolini, Sarah Frances Vaccarella, Katherine Patricia Valenzuela-Gomez, Austin Tyler Van Dyke, Hue Vang, David Cadmiel Vasiu, Joseph Vicente Verrette, Rochelle Len Vincent, Keely Bryn Wagner, Seddon Andrew Wagoner, Taylor L. Waldron, Aubrey Brittian Wallace, Candace Tolbert Wallace, Shawn Franklin Warlick, Savanna Savoy Warnes, Soraya Janet Watkins, Nicole Cuomo Watts, Seth Hallman Watts, Alexis Lea Welch, Elizabeth Yancey Welch, Vickie Louise Whisnant, Kimberly Stryker White, Jillian Grace Whitener, Natalie Carol Whitfield, Joshua Andrew Wike, Terry Dane Wiley, Cassie Marie Wilkins, Jessica Danielle Williams, Noah Bryant Williams, Danielle Nicole Winkler, Sierra Marie Winters, Christopher Matthew Withers, Joshua Woodall, Anu Sua Xiong, Lily Paj Tsiab Xiong, Natalee Moua Xiong, Tony Xiong, Xia Xiong, Andrea Giao Ong Yang, Emily Yang, Jennifer Sheng Yang, Kong Meng Yang, Kong Nhia Keith Yang, Panya Yang, Yer Yang, Christopher Thomas Yarbrough, Darby L. Yates, Jackson Joseph Yost, Amber Nicole Yount, and Alexis Victoria Yowe.

Gaston County
Ben Baxter, Jacob Avander Broach, Hillari Gabrielle Cloninger, Lauren Elizabeth Gantt, Sarah Nicole Kinney, Caleb Michael Robinson, Autumn Dawn Walker, Michaela Rebekah Wells, and Kara Noelle Wright.

Iredell County
Jacob Anderson Biehler, Brett Edward Bolger, Sara Carruth, Krystal Marie Chandler, Yong Chi, Casey Shope Efird, Brandi Nicole Gourley, Jennifer Kay Grafton, Desirae M. Hutchcraft, Herit Dinesh Kathrotiya, Kendra Renee Kerr, Kevin Sharpe, Hannah Hollingsworth Stanley, Beth Lyn Vanduzer, Dalla Nhiawa Vang, and Samantha Sue Willis.

Lincoln County
Melissa Rae Campbell, Meleah Shunta Chesney, Tammy Lynn Dellinger, Joseph Taylor Duncan, Brittany Nicole Farris, Trenton Cole Holland, Sarah Nicole Hollifield, Stephanie Melette Honeycutt, Julieta Carolina Isoler, Juanito Florendo Lomboy, Jeneatta Marie Lopez, Pamela Helms Martin, James Cullen McDowell, Janna Ryan Mills, Brittainny Christian Morrison, Sandra Lindsay Parker, Jared Connor Schubring, Heather Tuno Vazquez, Madison Dawn Warlick, and Alam Zambrano.
 
Students from other areas achieving High Honors in the spring 2017 semester include
Courtney Angeline Eckmann, Alamance County; Jenna Grace Dunsmore, Brunswick County; Candace Sharyl Barbagallo-Davis, Buncombe County; Samantha English Baucom and William Liles Neal, Cabarrus County; Spencer Marie Burton, Jillian Sara Kegerreis, Christian Nicholas Morgan, Heather Webb Royster, and Cassie Jana Sailors, Cleveland County; Nicole Kaye Smith, Davie County; Ben Baxter, Gaston County; Wesley Alan Ogle, McDowell County; Shawanda Becoats, Laura Ann Davis, Sabrina Marie Pinard, Matthew Adrian Powell and Latanya Willoughby, Mecklenburg County; Amy Carolyn Estep, Rowan County; Sara Lynn Fink, Rowan County; David Adrian-Hyde Graves, Union County; and Danielle Kae Shore, Wilkes County.
 
# # #