Student Shark Tank Winners Declared
Catawba Valley Community College recently held its fall Shark Tank Competition for CVCC students at the college's Corporate Development Center, with students presenting and pitching their business ideas to a panel of judges.
11/15/2017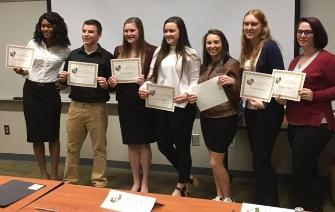 The first place winner was the team of Melissa Mooney and Markie James who pitched their Head to Paws business idea.
Second place went to Vanessa Sharp for her Safe H.O.M.E. pitch.
The third place winner was Laura Montgomery for her idea for creating a Hickory Jazz Club. The top three winners received cash prizes.
Other Shark Tank finalists included Brandon Parker, Hanna Marada, Ansley Gorski, and Autumn Elder.  
The competition provides students with the opportunity to pitch a business idea to a panel of business leaders, promoting entrepreneurship and small business ownership to CVCC students. Judges for the event included Dr. Keith Mackie with CVCC; Byron Hicks with the Small Business Development and Technology Center; Rex Benfield with Prodigy Voice & Data, LLC; and Stacy Austin with Chick-fil-A South Hickory.
A takeoff on the popular ABC reality show, CVCC's Shark Tank is sponsored by the L.B. Lane Family Foundation; Prodigy Voice & Data, LLC; Chick-fil-A South Hickory; Duke Energy, and the CVCC Foundation. The CVCC SkillsUSA chapter assists in coordinating and managing the event.  
CVCC will hold a Shark Tank competition for local high school students next spring. Contact Jeff Neuville at jneuville@cvcc.edu or gmuller@cvcc.edu for more information. 
# # #