Student Singers Attend Harmony University Workshop
Two Catawba Valley Community College student singers from the Music Department Austin Medlin and Sylvester Stroud along with their instructors, Caroline Simyon, Kimberly Ray and accompanist Freda Harrell, recently attended Harmony University Workshop at Belmont University, located in Nashville, Tenn.
10/26/2017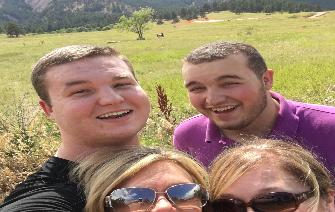 Medlin and Stroud were among singers from all over the world to attend the seven-day intensive music conference.
Earlier last summer, the students competed in the final round of the National Association of Teachers of Singing (NATS) competition where they were the only community college students selected to compete.
Stroud completed his Associate in Fine Arts Music degree at CVCC this past May and was awarded nearly full scholarships for merit and musical talent to attend Campbell University. Medlin has also been accepted at Campbell and received scholarships.
Stroud was the student of CVCC Music Faculty Member Kimberly Ray and Medlin is the student of Music Program Director Caroline Simyon.
# # #