Students Named Edison Project Finalists
CVCC's own dynamic duo Cedric Clyburn and Chanler Watts have been named one of 13 finalists in this year's sixth annual Edison Project Entrepreneurial Competition sponsored by the Catawba County Chamber of Commerce.
10/13/2017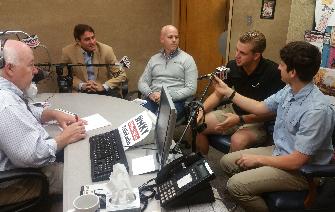 President and CEO of FarmToHome, Clyburn is currently a junior at Challenger Early College High School and a second year CVCC student seeking an associate of science degree. His goal is to acquire a bachelor's degree in marketing at a four-year institution.
Watts is also a junior at Challenger and a second year CVCC student. He is seeking an associate in arts degree.
Clyburn and Watts are among many CVCC students and student teams who have been selected as finalists in prior Edison Project competitions.
Clyburn and Watts have captured the entrepreneurial spirit of the Greater Hickory Metro with their FarmToHome food delivery company pitch. Convenience, freshness and locally grown food are all driving forces behind FarmToHome';s and Watts are innovative contenders seeking the Edison Project competition's coveted $10,000 first place prize, which would also afford them with workshops, networking, and mentorship opportunities with local businesses, community leaders, and subject-matter experts. Such prized opportunity would also provide the winner the advantage their company needs to advance and refine their go-to-market strategies.
The 2017 Edison Project Competition will conclude with a final pitch to an audience of community members that will kick-off Global Entrepreneurship Week, presented by Clyburn- Lenoir University, on Monday, Nov. 13, at Market on Main from 5:30-7:30 p.m. 
# # #