Surgical Technology Grads Recognized
Recent graduates of Catawba Valley Community College's Surgical Technology diploma were recognized at a ceremony in their honor.
08/14/2017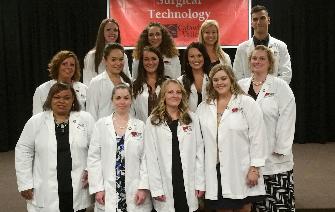 Members of the graduating class include Keri Branch, Denver; Paul Brincovan, Hickory; Lizbeth Cantera, Conover; Cary Carpenter, Conover; Christina Carpenter, Claremont; Alexia Cook, Lincolnton; Samantha Gravley, Hickory; Christina Heavener, Hickory; Desiree Meisenheimer, Hickory; LaQuanda Redmon, Hickory; Kasie Sebastian, Vale; Savanna Warnes, Lincolnton; and Alexis Yowe, Hickory.
Surgical technologists assist in the care of patients in the operating room and function as part of a surgical team. Working directly with surgeons, these individuals must understand sterile techniques, sterilization and disinfection, instrumentation, mechanical equipment, and needed surgery procedure supplies. Many graduates are employed in operating rooms, or same day surgery settings. However, they may also be employed in dialysis units, physician's offices, labor and delivery units, central sterile processing departments, or emergency rooms.
Many of CVCC's graduates practice locally as well as across the country. CVCC's program is accredited by the Commission on Accreditation for Health Education Programs in collaboration with the Accreditation Review Committee on Education in Surgical Technology and Surgical Assisting.
# # #