Top SkillsUSA Chapter in the Nation
When he became president of Catawba Valley Community College (Hickory, N.C.), Dr. Garrett D. Hinshaw set a goal to become the "Best Community College in the America." A group of students, faculty and staff recently brought home a trophy attesting to that coveted status as they returned from the SkillsUSA National Leadership and Skills Conference.
07/09/2018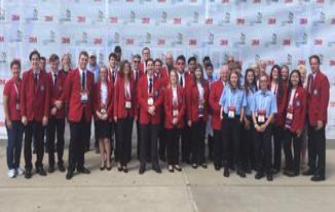 CVCC's chapter was named number one among 16,000 in the nation when they won the 2018 Model of Excellence Award at the national conference held recently in Louisville, Ky.
Chad Ledford and Tyler Brown served as student representatives in the competition that began at the state level last spring where they were named to the top 24 in the nation. The team competed in rigorous personal interviews, and chapter activities were scrutinized carefully by a panel of judges.
SkillsUSA's National Conference is the world's largest showcase of skilled trades. Students at the high school and college level demonstrate technical, workplace and personal skills through 102 hands-on occupational and leadership competitions.
The Model of Excellence Awards was one of 10 gold medals won by the college. Students also earned one second place win, one third place, one fourth place and one seventh place, winning more medals than any college in the nation.
Nicholas "Nick" Joyner successfully campaigned for and was elected a SkillsUSA College National Officer, the first CVCC student to do so.
CVCC meldalists include:
Place   Competition   Student Competitors   Advisors
1st   Advertising Design   Carlee Wiswall   Jennifer Cobb
1st   Crime Scene Investigation   Savannah Brown, Corrine Mudd, Summer Walsh   Sherry Herman
1st   Customer Service   Sam Frye   Thomas Peeler, Gary Muller
1st   Engineering Tech Design   Jason Rhoney, Sidney Richardson, Brennan Wickham   Jim Thomas
1st   Entrepreneurship-College                    Sierra Abee, Markie Harris, Melissa Mooney, Brenna Wickham   Jeff Neuville, Jennifer Cobb, Gary Muller
1st   Entrepreneurship-High School   Cedric Clyburn, Chanler Watts, Wyatt Rudisill   Jeff Neuville, Gary Muller
1st   Model of Excellence   Chad Ledford, Tyler Brown   Tammy Muller
1st   Outstanding Chapter   Jacob Carr, Emily Moore, Ansley Gorski   Tammy Muller
1st   Pin Design     Sena Lor   Jennifer Cobb
1st   Quiz Bowl    Holly Cable, Cole Denney, Cecil Hash, Andrew Igdal, Sakhaim Thongsy, Cristal Xiong   Robin Ross
2nd   Community Service   Sarah Moses, Valerie Stiltner, Mouda Xiong   Tammy Muller
3rd   Screen Printing    Cynthia Lainez   Aaron Tallman
4th   Digital Cinema    Connor Hooks, Mason Rader   Aaron Tallman
7th   Job Interviewing    Whit Preston   Michael Boone, Gary Muller
            
Other students who earned excellent national rankings include Lewis Whaley, Automotive Service (Eddie Roane- Advisor); Shelby Sipe and Chris Torres- Rodrigeuz, Crime Scene Investigation (Seth Bailey-Advisor); Cheyenne Chumley, Photography (Joe Young-Advisor); Alfonso Galen-Rodriguez, T-Shirt Design (Natasha Stiles-Advisor); and Sam Herman, Welding (Trent Morrison and Mark Sigmon-Advisors).
Through the generous support of Chick-Fil-A South Hickory, Duke Energy and the Haas Foundation through the CVCC Foundation, as well as CVCC's Board of Trustees, CVCC students received the opportunity to participate in this valuable career preparation experience.
For more information about SkillsUSA activities on the CVCC campus, contact Gary Muller, 828-327-7000, ext. 4672, gmuller@cvcc.edu.
# # #