United Arts Council Grant Funds Interdisciplinary Read
Catawba Valley Community College recently received a $4,000 Collaborative Arts Grant from the United Arts Council of Catawba County. The grant funds collaborative programming to be offered by the college and the Catawba County Library System focused on the college's annual Interdisciplinary Read "Just Mercy," by Bryan Stevenson.
11/13/2017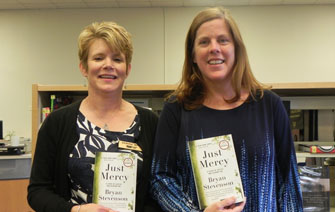 The book is a compelling memoir of Stevenson's struggles with the justice system as a young attorney frustrated with the injustices he witnessed.
The college and the library system have coordinated a wide range of engaging events throughout the academic year. Each activity is designed to trigger discourse that promotes individual self-awareness and recognizes the value of diversity. Programming will be free and open to the public. Free copies of "Just Mercy" will be provided to the inmate library at the Catawba County Correctional Center.
Dramatic readings, a presentation by the NC Innocence Inquiry Commission, and panel discussions involving experts involved in the criminal justice system are planned. Matinee with a Message, book discussions with guest facilitators, and "Coffee With a Cop" events are also slated. Capstone events featuring Anthony Ray Hinton, whose death row case plays a role in the book "Just Mercy," are scheduled at the library and CVCC for spring 2018.
"This opportunity to collaborate with the Catawba County Library provides a way for the CVCC Interdisciplinary Read initiative to reach a larger audience and encourage meaningful dialogue on critical issues like the criminal justice system," said Dr. Donna Ross, Humanities Department Chair. "We are so fortunate that the United Arts Council of Catawba County financially supported and encouraged this collaboration."
For more information about the "Just Mercy" Interdisciplinary Read activities at CVCC, contact Dr. Ross, 828-327-7000, ext. 4111, dross@cvcc.edu, or visit www.facebook.com/CVCCBookRead/.
For more information about activities coordinated by the Catawba County Library, contact Siobhan Loendorf at 828-465-8664, sloendorf@CatawbaCountyNC.gov.
# # #