Ward Receives Ty Bryant Scholarship
Catawba Valley Community College student Kelly Ward was recently presented the William Tyler "Ty" Bryant Scholarship established through the CVCC Foundation, Inc.
11/13/2018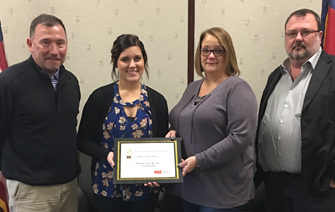 The scholarship was established to honor the life of Bryant, his work ethic and career goal in the field of polysomnography, or sleep studies. A 2016 graduate of CVCC's Associate of Arts degree, Bryant was enrolled in CVCC's Polysomnography program when he died at age 21. The scholarship was established by Bryant's family members and friends.
The intent of the scholarship is to assist a student enrolled in the Polysomnography program who maintains a minimum 2.5 GPA and is committed to a career in the sleep studies field.
A graduate of South Caldwell High School, Ward is currently in her second year of studies in Polysomnography. She earned an EKG certification through CVCC. She has been invited to join CVCC's Phi Theta Kappa International Honor Society with a grade point average of 3.5.
Upon graduation, Ward intends to complete a bachelor's degree in neurodiagnostics and sleep science at UNC Charlotte.
 
The mission of the CVCC Foundation, Inc. is to foster and promote the growth, progress, and welfare of CVCC. For more information on establishing a scholarship or making a gift, contact Teresa Biggs, executive director of the CVCC Foundation, Inc., 828-327-7000, ext. 4288, tbiggs@cvcc.edu.
# # #