Cosmetology
Cosmetology Program graduates who pass the state board exam find employment in hair salons, spas, medical spas, nail salons, and related businesses.
Cosmetology Program
The Cosmetology program curriculum is designed to provide competency-based knowledge, scientific and artistic principles, and hands-on fundamentals associated with the cosmetology industry.
Students learn in a simulated salon environment that helps develop manipulative skills.
Instruction includes all phases of professional imaging, hair design, chemical processes, skin care, nail care, multicultural practices, business/computer principles, product knowledge, and other selected topics.
Graduates should qualify to sit for the State Board of Cosmetic Arts Examination. After successfully passing the state board exam, graduates will be issued a license. Employment is available in hair salons, spas, medical spas, nail salons, and related businesses.
General education courses, including English and psychology, are taught on the CVCC campus. All cosmetology-related courses will be taught at CVCC's newly constructed state-of-the-art Cosmetology Center near main campus. Instruction and course materials are available in Spanish.
A diploma is awarded to graduates of this curriculum.
Other Programs
Esthetics - CVCC Cosmetology is excited to add the new Esthetics program available. Registration is available now. Visit the Esthetics program webpage to learn more. 
Barbering - CVCC has a Barbering program available in the Continuing Education division. Registration is available now. Visit the Barbering program webpage to learn more.
Manicurist - The CVCC Cosmetology  Manicurist program. Visit the Manicurist webpage to learn more. 
Client Salon Services 
The Cosmetology Center open to the public for hair, nail, and skin services. To schedule an appointment, please call (828) 327-7000, ext 4118.
Public hours will be Tuesdays-Thursdays with appointments starting at 9:00 AM. Closing time depending on services.  Appointment are recommended. Walk-Ins  accepted by availability.  Payments are cash or personal check only.
» Please read the important CVCC Salon visitors policy. 
Please check our Cosmetology Facebook page, or our voicemail at (828) 327-7000, ext.4118, periodically for any updates on the status of our student salon. 
New Student Orientation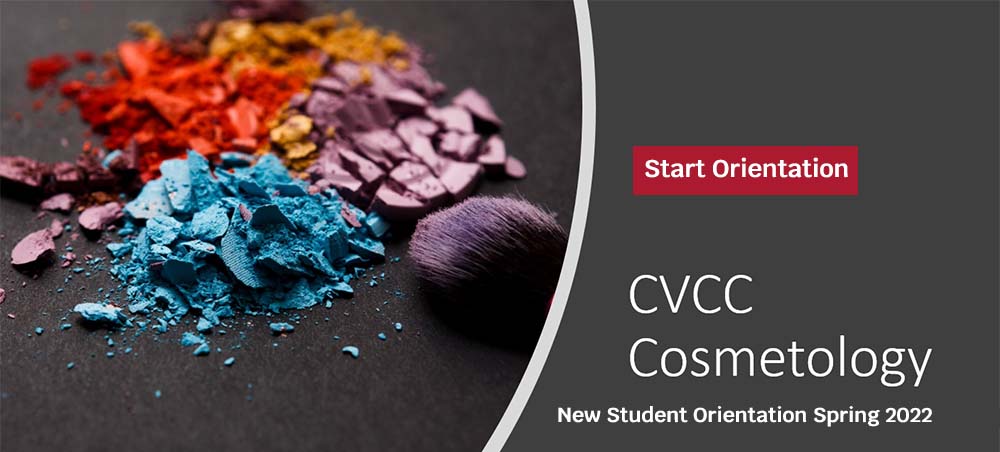 Important links
» Apply Now
» CVCC Admissions
» CVCC Bookstore
Program Information
Program Options
Program Options
Cosmetology Diploma
Cosmetology Pathway Diploma
Please see the catalog for more information about the degree option in this curriculum.
Related Programs
Related Programs
The below are short-term Continuing Education programs.
Information
Salon Price List
Salon Hours
The Cosmetology Center will be Opening to the public on August 24th. 
Public hours will be Tuesdays, Wednesdays, and Thursdays from 9:00 AM - 2:00 PM. 
» Please read the important CVCC Salon visitors policy. 
CVCC Cosmetology Salon Menu
Thank you for choosing CVCC Cosmetology. All services performed exclusively by students. Please allow ample time to complete services. Prices, services, and hours of operation are subject to change.
To schedule an appointment, please call (828) 327-7000, ext 4118.
| Style | Price |
| --- | --- |
| Shampoo and cut | $8 |
| Shampoo and style | $13 |
| Shampoo, cut, and style | $20 |
| Up-Do | $20 |
 
Color
(Includes shampoo, cut, and style)
Price
Color Retouch
$30+
All Over Color
$40+
Highlights or Lowlights - Full / Partial Head
$50+ / $40+
Highlights and Lowlights - Full / Partial Head
$60+ / $50+
Balayage/Ombre
$75+
Toner
$15
Additional Product
$10/bowl
Color Correction
By Consultation ONLY
Texture and Curl
(Includes shampoo, cut, and style)
Price
Basic Perm
$35
Spiral Perm
$40
Additional Perm Solution
$10/box
Soft Curl Perm Retouch
$45+
Soft Curl Perm All Over
$55+
Relaxer Retouch
$35
Relaxer All Over
$45
 
Hair Removal Services
(By appointment only)
Price
Eyebrow Wax
$7
Lip Wax
$7
Chin Wax
$7
Full Face
$20
Skin Care
(By appointment only)
Price
Basic Facial (45 min)
$25
Facial with Make-up Application
$25
Make-up Application
$15
 

| Nail Services | Price |
| --- | --- |
| Manicure | $10 |
| French Manicure | $14 |
| Gelish Manicure | $20 |
| Mini-Manicure (10 yrs and under) | $6 |
| Pedicure | $15 |
| French Pedicure | $18 |
| Gelish Pedicure | $25 |
| Mini-Pedicure (10 yrs and under) | $10 |
| Nail Art | $3/full nail |
| Soak-off | $5 |
 

| Add-On Services | Price |
| --- | --- |
| Hair and Scalp Treatment | $10 |
| Brow Tint | $10 |
| Beard/Mustache Trim | $8 |
Appointment Information
To schedule an appointment, please call (828) 327-7000, ext. 4118.
Technical Standards
Technical Standards
Catawba Valley Community College does not discriminate against qualified individuals with disabilities and will attempt to provide reasonable accommodations as required by law. The following activities are examples of the kind of activities which a student in the Cosmetology program will be required to perform in order to successfully complete the program. If an accepted applicant believes that he/she cannot meet one of more of the standards without accommodations, the applicant should consult the counselor of the program for student with disabilities (see below).
Requirements

| Issue | Standard | Example |
| --- | --- | --- |
| Critical Thinking | Critical thinking ability sufficient for clinical judgment. | Identify cause and effect relationship in clinical situations. Assimilate knowledge, retain information and develop professional suggestions for salon services and treatment plans. |
| Interpersonal Skills | Interpersonal abilities sufficient to interact with a variety of social, emotional, cultural and intellectual backgrounds. | Establish rapport with clients, colleagues, team members and salon professionals. Demonstrate patience and empathy with clients. Demonstrate delivery of required salon services with variety of individuals. |
| Communication Skills | Communication abilities sufficient for interaction with others in verbal and written form. | Collect assessment data. Explain salon services and procedures. Read instructions accurately. Document and interpret salon services developed, prescribed and performed. |
| Mobility | Physical abilities sufficient to move around the simulated salon setting and treatment areas and use laboratory equipment. | Move around clinical space and equipment. Stretch, bend, stand and elevate arms for a long period of time. |
| Motor Skills | Gross and fine motor abilities sufficient to provide safe and effective salon services. | Use equipment appropriately. Assist clients with transfer and movement into shampoo chairs. Promote sanitation, disinfection and safety. |
| Hearing and Visual | Auditory and visual abilities sufficient for following instructions, directions and assessment of services needed for clients in a simulated salon. | Observe and listen to client in the consultation phase. Observe and respond to the client during salon service phase. Educate client post – service phase. |
| Tactile | Tactile ability sufficient for observation and assessment necessary for client care. | Perform procedures taught and required by NC State Board in a timely, effective and safe manner. |
| Cognitive/Critical Thinking | Cognitive ability sufficient for organizing responsibilities and using professional judgment. | Adhere to personal and professional ethics. Adhere to NC State Board rules and laws. Adhere to professional standards of the salon industry. |
Please note: Examples are not all inclusive.
If you have a disability and need accommodations, please contact the Counselor/Students with Disabilities Program at least 72 hours in advance at (828) 327-7000, ext. 4222 or accommodations@cvcc.edu
Career Outlook
Cosmetology: Career Outlook
Department Head, Cosmetology Center
Cosmetology Center
Email: Donna Vann
Phone: 828-327-7000 x4108
Office Number: Suite 109 Cosmetology Center